How to Choose a Web Hosting Service
Posted on March 28, 2023 | By Verity Hosting Business Post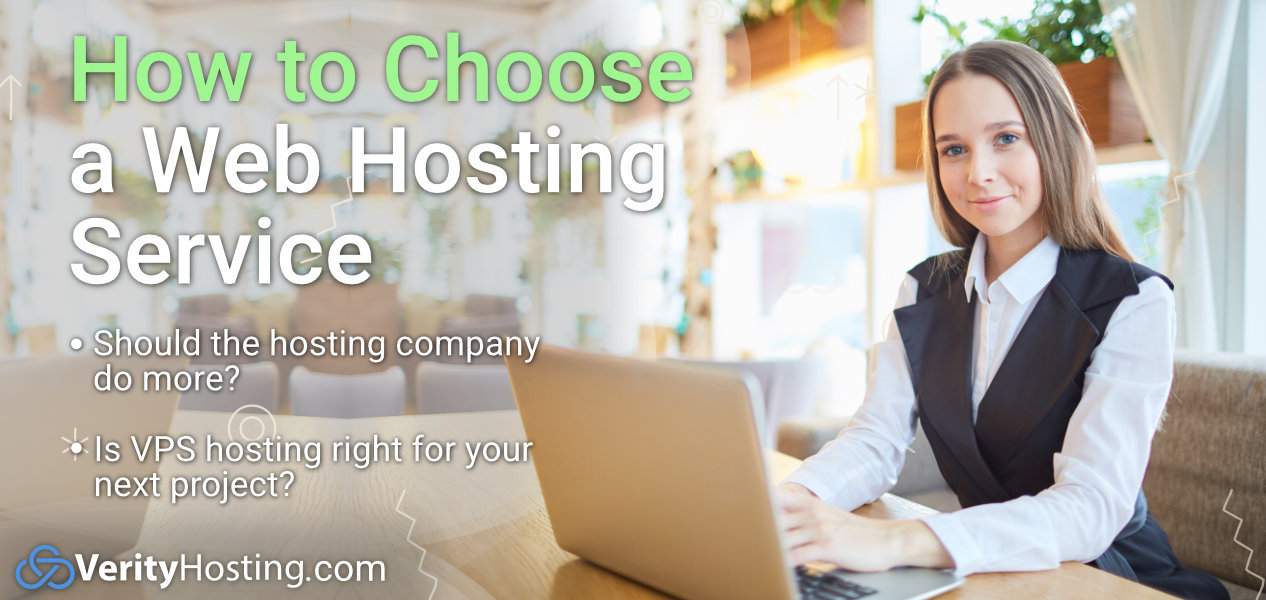 How to Choose A Web Hosting Service?
When it comes to finding a web hosting provider choosing the right hosting service can seem overwhelming.
Web hosting is the service that stores your website files and makes them accessible on the internet.
With so many web hosting options, deciding which is the right fit for you or your business can be challenging.
In this article, we will dive deeper into the world of web hosting services. We will also explore the importance of selecting the right hosting provider for your needs.
This article covers the following:
How to choose the right hosting service

Types of Hosting services that are available

What you need to consider when choosing the service

Steps to follow when choosing the hosting service
So, whether you're a beginner or an experienced webmaster, keep reading to learn how to choose the best web hosting service for your needs.
Types of Web Hosting Services
Before deciding on the right hosting, you need to know the available options. In this section, we will discuss the different hosting types and options that most hosting providers offer.
We will also go over the pros and cons of each so you can find the right one for your project.
1. Shared Hosting
Shared hosting is a type of web hosting where a single physical server is shared among multiple websites. Each website shares the same resources, such as disk space, bandwidth, and CPU.
Shared hosting is the most affordable option for individuals and small businesses, as the server users share the cost.
However, shared hosting can also have some real drawbacks and limitations since the server resources are being shared among potentially a hundred or more websites.
Suppose one website experiences a sudden increase in traffic or uses too many resources. In that case, it can affect the performance of all other websites on the same server.
With shared hosting, you want to find a good hosting provider with a better reputation for not over-selling their hosting services.
The cheaper hosting companies must put more customers on each server to justify the reduced cost, which will drop the quality sometimes by a significate amount.
This will make it difficult to have a reliable website that can handle more traffic when needed. You will see that your website will become slow to respond during peak business hours when you need it the most.
So shared hosting is a good option If you go with a good provider. If you stay around the $12 a month price range, you should be ok.
2. Virtual Private Server (VPS) Hosting
Virtual Private Server (VPS) hosting is a type of web hosting where multiple virtual machines run on a single physical server.
Each virtual machine runs its own operating system and applications and is allocated a certain amount of server resources such as CPU, RAM, and storage space.
Virtual Private Servers are an excellent option for businesses or projects that require more resources and the ability to make changes to the operating systems.
It is an intermediate option between shared hosting and dedicated hosting, which offers more control, flexibility, and scalability than shared hosting but at a much lower cost than dedicated hosting.
VPS hosting users have more control over their server environment as they can install any software and configure the server settings according to their needs.
3. Dedicated Hosting
Dedicated hosting is a type of web hosting where a physical server is dedicated to a single user or company.
The user has complete control over the server and its resources and can install software and configure settings per their requirements.
Dedicated hosting provides high performance, reliability, and security, as the server resources are not shared with anyone else.
It is ideal for large businesses and E-commerce websites that require high-traffic and resource-intensive applications.
Dedicated servers are a great option if you need more resources. Still, they can run into some limitations in certain situations.
4. Cloud Hosting
Cloud hosting is a type of web hosting where multiple virtual servers are clustered together to provide a more scalable hosting environment.
With cloud hosting, the resources of the virtual servers are shared among multiple users, and the user pays for the resources they consume.
Cloud hosting offers better scalability and flexibility, as users can add or remove server resources on demand to meet changing business requirements.
The downside of cloud hosting is that you are charged for every resource you use. You are at a fixed cost with shared hosting, VPS Hosting, and dedicated hosting.
With cloud hosting, the costs can quickly add up as you pay for CPU cycles, memory, bandwidth, and storage space.
With cloud hosting, it's a good idea to read all the details of the service contract, so you have an idea of the costs. Initial costs can catch you off guard if you are unfamiliar with all the cloud hosting fees.
Still, cloud hosting is a good option if you need the flexibility it provides.
5. Managed Web Hosting
Managed Web Hosting is where the hosting provider takes care of some or all of your hosting setup and ongoing maintenance.
This allows you to push the technical setup and support back to the hosting provider.
The great thing about this is that the hosting provider is well-equipped to handle any hosting issues that may occur.
This gives you peace of mind that your website is well taken care of and has a team of experts maintaining it 24/7, 365.
Many customers we talked to were unaware of this hosting option and pleasantly surprised when they found out they could push this back to the hosting company.
There are several levels of managed hosting available. So you must pay close attention to what the hosting provider is offering.
Many hosting providers today have caught onto the fact of Manage Hosting and that people are willing to pay a little more for this service.
However, their service is more of a watered-down version of standard hosting with automated updates and not much else.
For actual managed hosting, look for a company that will do much more than automate security updates on your website.
You want the hosting provider that manages all aspects of your setup and configuration. Your website maintenance and security updates and website backups.
You want to look for a provider to take care of everything for you. This type of hosting does cost a little more but is well worth it as you save a lot of time and have a team of experts at your disposal.
6. Managed WordPress Hosting
Managed WordPress hosting is a type of specialized web hosting that is optimized for WordPress websites.
It provides all the necessary features, such as automatic updates, backups, security, support, and maintenance for WordPress.
The web host manages the technical aspects of WordPress and takes care of routine tasks such as updates, backups, and security.
Managed WordPress hosting can improve the performance of WordPress websites, ensure their security, and free up time for website owners to focus on their content and marketing strategies.
It is ideal for bloggers, small businesses, and anyone who needs a hassle-free and secure hosting environment for their WordPress website.
Factors to Consider When Choosing a Web Hosting Service
1. Server Reliability and Uptime
When looking for a web hosting service, you want one that offers good stable services without a lot of downtime.
This means that your website will be accessible to visitors more often, and you won't experience frequent drops in service due to maintenance or technology glitches.
Most hosting providers today offer much better uptime than just a few years ago. This is due to the growth of the internet and the money that has been put back into the hosting industry over the last ten years.
For good reliability and update, make sure to stay away from cheap or free hosting providers. They may seem like a good deal until you find out that the service is not very good and the support is lacking at best.
2. Speed and Performance
In addition to server uptime, website speed, and performance are crucial factors in choosing a web hosting service. A slow website can deter visitors and negatively impact your search engine ranking.
Look for a web host that can provide fast loading times and more reliability. This will cost a little more but will be well worth it as your website will offer the customers a much better user experience.
3. Website Security
Security is essential for any website, especially websites with sensitive information like a shopping cart or e-commerce website.
Ensure that your web host provides robust security features like SSL certificates, firewalls, and regular backups to protect your website from cyber-attacks and data breaches.
4. Scalability
As your website grows and attracts more visitors, you will need a web host that can provide scalable resources to accommodate the increased traffic.
Choose a host that can easily upgrade your hosting plan or resources, such as RAM or CPU, when your website outgrows its current setup.
Most providers today can easily upgrade your website to a new plan, but the trick is to find one that will do it for free. A good hosting provider should quickly help you with this upgrade. If they want to charge you, then you should look for another provider.
5. Customer Support
Good customer support is crucial when running a website. Look for a web host that provides reliable and responsive customer support through various channels like phone, chat, or email.
Live chat can sometimes be good, but we recommend phone or email for a better support experience.
Ensure their support team is knowledgeable and capable of quickly resolving technical issues. You want to avoid being stuck with first-level support as this will waste your time, and they may be unable to resolve your issue.
6. Price and Value for the Money
The cost of web hosting varies depending on the service provider and the features included in the package.
Look for a web hosting company that provides real value for your money by offering useful features and reliable service.
There are better ways to pick your hosting provider or plan than choosing the cheapest option. Consider the overall value that a web host provides rather than just the price tag.
Additional Features with Web Hosting Service
This section will look at some of the other features you can get with a web hosting plan.
1. Control Panel
A control panel is a web-based interface provided by web hosting companies allowing users to manage their accounts.
The control panel can include features such as domain management, email management, file management, and website analytics information.
The two most popular control panels today are Cpanel and Plesk. Both control panels offer most of the features you will need to setup and support a website and hosting account.
2. Email Accounts
Email may be included with your hosting plan. However, this is starting to be slowly phased out as providers are looking to separate hosting and email plans.
This is due to the support and security needed to manage and maintain an email account properly.
It is good to separate your email from your hosting for security and stability reasons. That is, having your website go down is one thing. Still, having your business email and website down at the same time is just not acceptable.
This is why we suggest getting an email plan that is at least separated from your host server. That is, some plans will store your website and email on the same server, which is not a good idea.
So look for a hosting company that separates your email from your website. Or purchase your email from another company if they don't separate these services.
3. Backups and Disaster Recovery
Backups and disaster recovery are critical features that every web hosting provider should include with the hosting plan.
Backups are periodic snapshots of the website's files and data, which can be used to restore the website in the event of data loss or corruption.
Disaster recovery is the process of restoring a website after a catastrophic event, such as a natural disaster or a major cyber attack.
When choosing a web hosting service, it is essential to look for one that offers reliable backups and disaster recovery options, such as automatic backups, offsite storage, and redundant server infrastructure.
4. SSL Certificates
An SSL certificate is a digital certificate that ensures secure communication between a website and its visitors.
SSL certificates are essential for e-commerce websites, protecting sensitive customer information such as credit card numbers and personal details.
SSL certificates also help improve the website's SEO ranking, as the search engines require your website to have an SSL installed.
When choosing a web hosting service, looking for one that offers SSL certificates that are easy to install, reliable, and verified by trusted certificate authorities is essential.
Steps to Follow When Choosing A Web Hosting Service
When choosing a web hosting service, it's important to take a systematic approach to ensure you select the right provider who meets your requirements.
Here are the steps to follow:
1. Identify Your Needs
Before you start researching web hosting providers, it's important to identify your needs. Consider the type of website you want to build, the amount of traffic you expect, the level of control you want, and your budget.
Different providers offer various hosting types, including shared, VPS, and dedicated hosting. So, understanding your needs and requirements is the first step.
2. Research Potential Web Hosting Providers
Once you clearly understand your hosting requirements, you can start researching potential web hosting providers.
A simple online search will yield many web hosting companies. Don't be swayed by the first provider you come across research thoroughly to compare features, pricing, and available options.
3. Read Reviews and Customer Feedback
Read reviews and customer feedback for each web hosting provider you're considering as part of your research.
Doing so will help you understand the experiences of other users and obtain valuable insights into the quality of the provider's services.
Although reviews and feedback can be subjective, they provide valuable information to help you make an informed decision.
4. Compare Pricing and Features
Once you've narrowed down your list of potential providers, it's time to compare pricing and features.
It would be best to look for a plan that offers enough resources to support your website and fits your budget.
Moreover, look for features that are most important to you, such as security, uptime, SSL certificates, and the type of account, managed or unmanaged.
5. Contact Customer Support With any Questions
Lastly, contact customer support with any questions you might have.
Reaching out to customer support will help you understand the quality of the provider's customer service, the efficiency of their services, and their willingness to help you.
A good web hosting service should offer reliable and responsive customer support to help troubleshoot any issues you might encounter.
Conclusion
Choosing the right web hosting service is crucial to the success of your website.
In this article, we have discussed various factors to consider when selecting a web hosting service, such as uptime, security, customer support, pricing, managed or unmanaged, and scalability.
It is essential to weigh your options carefully before making a decision. Make sure to look for a web hosting service that aligns with your needs and goals.
We recommend conducting thorough research and seeking guidance from experts in the field when making your final decision.
By following these guidelines, you can ensure your website is hosted with a reliable, high-performing provider to help you achieve your online objectives.
Image Credits
All photos used have been curated by Verity staff
The editorial staff at VerityHosting is a team of hosting experts with over 25 years of experience managing, monitoring, and maintaining hosting services for small businesses.