10 Reasons Why Your Small Business Needs a Website
Posted on December 9, 2022 | By Verity Hosting Business Post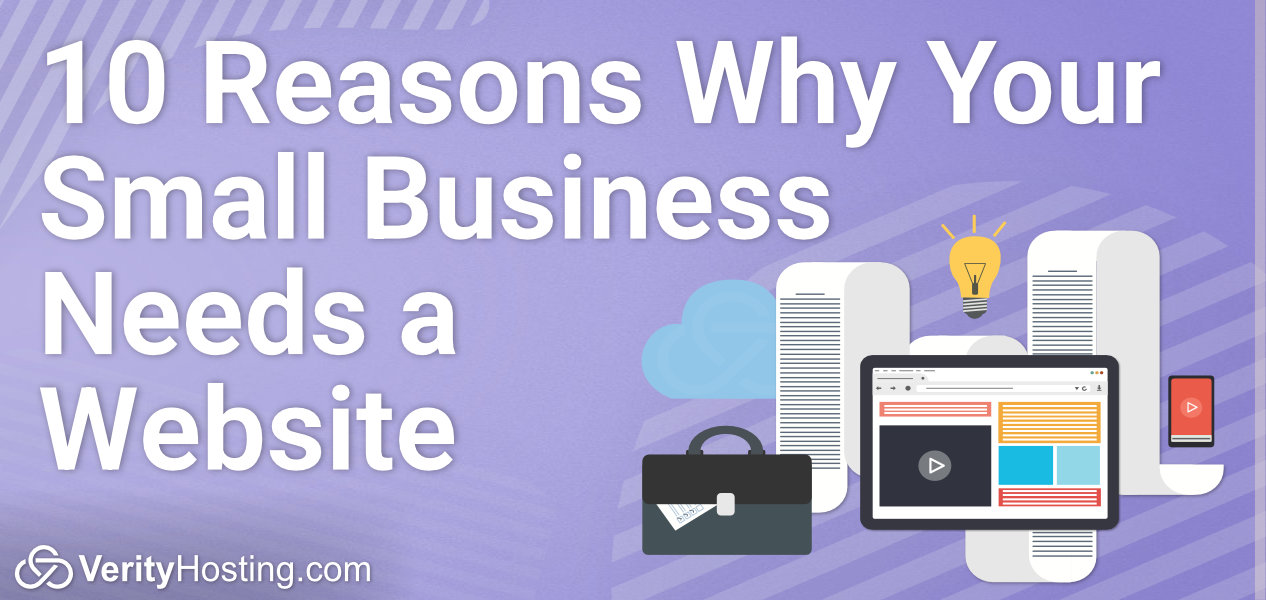 10 Reasons Why Your Small Business Needs a Website
You might be thinking, "Do I need a website as a small business?" The answer is an unequivocal "Yes!"
Why is having a website important for business? More precisely, why is a website necessary for small businesses? Having a website when operating a small business has several advantages.
In this article, we'll discuss 11 reasons why your small business needs a website.
1. A Website Gives Your Business a Professional Edge
Think about it: if you're a small business, your website is often the first time potential customers will see you. And if it looks bad, or if it's not easy to find information, they're going to assume that your business is also bad.
On the other hand, if your website looks professional and is easy to navigate, it gives customers a good impression of your business. It tells them that you're serious about what you do and that you put a lot of thought into your brand.
2. Customers Expect Businesses to Have a Website
Today, it's more important than ever for businesses to have a website. Not only is it a great way to introduce your business to potential customers, but it's also an essential tool for marketing and growing your business.
When a customer is looking for a local business, what's the first thing they do? They go to a search engine and search for businesses in their area. And if your business doesn't have a website, there's a good chance you won't show up in their search results.
That's why it's so important for businesses to have a website - it's the best way to reach potential customers and promote your products and services.
3. Having a Website Makes It Easy for Customers to Find Your Business
Think about it - would you rather search through a sea of Google results or type in a web address to find what you're looking for? When it comes to finding a small business, most people would rather go the easy route and type in a web address.
And that's where your website comes in. With just a few clicks, customers can find out everything they need to know about your business, from your hours of operation to what products and services you offer. Plus, they can easily access your contact information and directions to your business.
In short, having a website makes it easy for customers to find you - and that's something you don't want to miss out on.
4. A Website Helps You Build Credibility With Customers
When you have a website, your customers will see that you're a legitimate business - not some fly-by-night operation. A website helps you build credibility and establish trust with potential and current customers.
Think about it - would you rather buy from a company that has a website or one that doesn't? A website shows that you're invested in your business and that you're serious about what you do. Plus, having a website gives you an air of professionalism.
Your website is also an extension of your brand, so it's important to make sure that it reflects the image that you want to project. Your website should be well-designed and user-friendly, with clear navigation and easy-to-find information. And of course, it should look good on all devices, from phones to laptops to tablets.
5. Gives You a Chance to Showcase What You Do
If you have a physical location, people who come in can see what you do. But what about people who don't live near you, or who might not even know you exist? A website gives you a chance to show the world what you do, and why they should care.
You can use your website to show off your products, your services, your team, your facility, or anything else that you want people to know about you. Use high-quality photos and videos, and write engaging copy to make an impact. And if you don't have the time or resources to do it yourself, hire someone who can help you create a website that you can be proud of.
6. Helps You Connect With More Customers
You might be thinking that you don't need a website because you're already using social media to connect with your customers. But the thing is, social media should be thought of as an addition to your website, not a replacement for it.
Your website is the one place where you have complete control over the message that you're trying to communicate. On social media, you're at the mercy of whatever algorithm is being used at the time. And if you're not careful, all of your hard work could be for nothing if you get caught in a filter bubble.
But with your website, you can control the narrative and make sure that your customers are getting the information that you want them to have. You can also use your website as a platform to sell products and services, which we'll talk more about in the next reason.
7. Allows You to Target a Wider Audience
You might be thinking, "I don't need a website because I'm a small business." But the truth is, even if you're a small business, you can still benefit from having a website because it allows you to reach a wider audience.
Sure, you might be doing just fine without a website. But what if there are people out there who want to buy your product or use your service, but they can't because they don't know you exist? A website allows you to reach those people and tell them about your business.
And with today's technology, it's easier than ever to create a professional-looking website. You don't need to be a tech expert or hire someone to do it for you. There are plenty of DIY website builders that are simple and easy to use. So there's no excuse not to have one.
8. You Can Use a Website to Build Customer Relationships
Building customer relationships is important for any business, but it's especially important for small businesses. And one of the best ways to build those relationships is through a website.
Your website can be a great way to connect with your customers and encourage them to come back again and again. You can use your website to offer discounts and special deals, and you can even use it to collect customer feedback.
Make sure you're responsive to any customer feedback you receive and use it to improve your products or services. If you show your customers that you're listening to them, they'll be more likely to stick with you in the long run.
9. Having a Website Helps Promote Your Brand
You've probably heard the saying "you only have one chance to make a first impression." And when it comes to your small business, that first impression is often made online.
That's why it's important to have a website that promotes your brand in the best light possible. After all, your website is often the first thing potential customers will see when they're searching for a product or service like yours.
Think of your website as an extension of your brand identity. It should reflect your company's values and style, and give visitors a taste of what it would be like to do business with you.
A well-designed website can also help build trust and credibility with potential customers. If your website looks professional and is easy to navigate, visitors will be more likely to believe that you're a reputable business worth their time and money.
10. Lets You Track Your Results
You can track everything on your website. How many people are visiting? How long are they staying? Where are they coming from? What pages are they looking at?
All of this data is incredibly valuable. It lets you see what's working and what's not. It lets you make changes and improve your site. And it lets you track your results over time to see how you're doing.
Without a website, you're flying blind. You have no idea what's working and what's not. You're just guessing. But with a website, you can track your progress and make sure you're on the right track.
A Website Will Generate Leads and Sales for Your Small Business and Help You Grow Online
Even if you don't sell anything directly from your website, it can still be a powerful tool for generating leads and sales for your business. How? By having a well-designed website that compels visitors to take action, whether that's subscribing to your email list, scheduling a consultation, or picking up the phone to call you.
The key here is to have a clear call to action (CTA) on every page of your website. A CTA could be something as simple as "subscribe to our newsletter" or "schedule a free consultation." But regardless of what your CTA is, make sure it's clear and easy for visitors to find and understand.
Your website is also a great place to showcase any promotions or deals you're currently offering. For example, if you're running a special on one of your services, you can create a landing page with all the details and then promote it on your social media channels. This will drive traffic back to your website where people can take advantage of your offer.
Conclusion
All in all, there are plenty of reasons to get a website for your small business. Not only can it help you reach more customers and make more sales, but it can also give you a professional edge over your competitors.
A website can also help you build trust with your customers, showcase your products and services, and even help you save money on traditional marketing methods. So if you're on the fence about whether or not you need a website, hopefully, this article has helped you see the light.
Image Credits
All photos used have been curated by Verity staff
The editorial staff at VerityHosting is a team of hosting experts with over 25 years of experience managing, monitoring, and maintaining hosting services for small businesses.