Benefits of Managed WordPress Hosting
Posted on March 10, 2023 | By Verity Hosting Business Post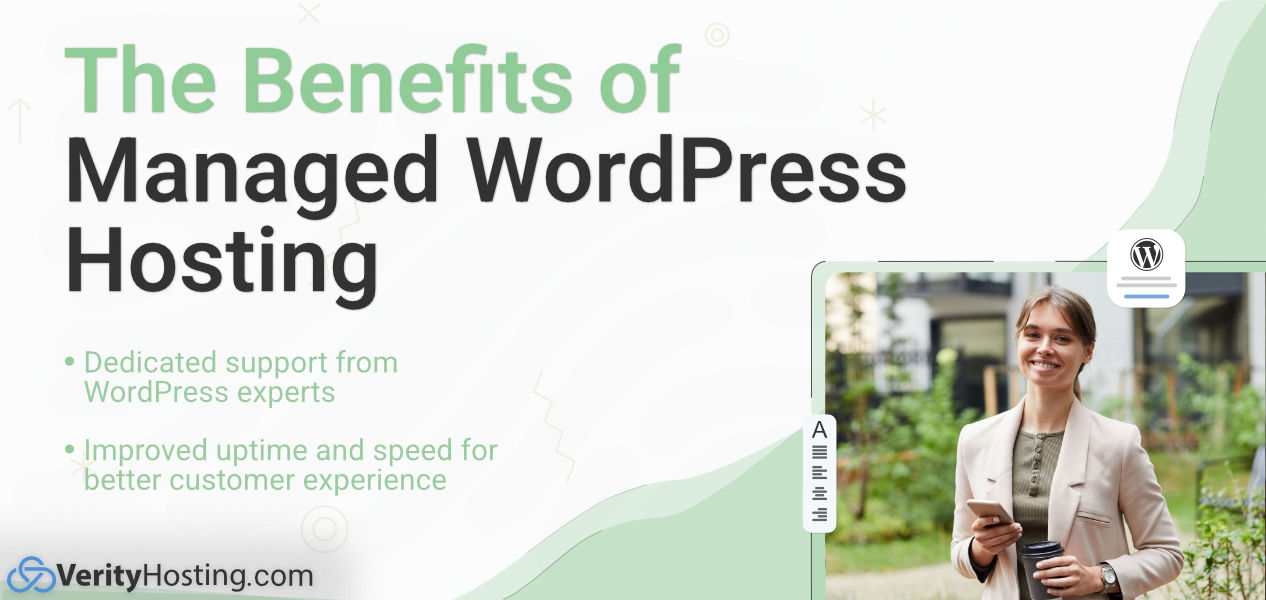 Benefits of Managed WordPress Hosting
Managed WordPress hosting has many excellent benefits over standard hosting.
These benefits include improved website performance, enhanced security, automatic updates, and, the best benefit of all, much better customer support.
Read more to learn about the true benefits of managed WordPress hosting. And the secrets to finding the right hosting provider for your WordPress website.
What is Managed WordPress Hosting?
Managed WordPress Hosting is where the hosting provider takes on a lot more of the hosting responsibility.
The hosting provider will do regular WordPress security updates and backups, including better site monitoring. But that is just the start. The real benefit is in the extra support.
Managed WordPress Hosting takes standard shared WordPress hosting to the next level. It puts the burden of maintaining the hosting services back on the web hosting provider.
This means the hosting provider has much more of the responsibility of managing, monitoring, and maintaining the hosting account and website.
Managed WordPress is ideal for people who would like to offload the responsibility of managing a WordPress website back on the hosting provider. If you ever had to manage, monitor and maintain a business website before putting the website management back to the hosting provider is a great idea.
1. Better WordPress Performance and Speed
One of the advantages of Managed WordPress Hosting is that the provider is there to help improve your website speed and performance.
It lets the hosting provider's team fine-tune the server and site settings, so your website will run better than ever.
Most Managed WordPress hosting providers will also include more resources like memory, processing power, bandwidth, and drive space.
This means you don't have to worry about these resources as much as the hosting provider will monitor and maintain these items for you.
The biggest benefit is the hosting company is responsible for maintaining your hosting account and website.
A slow website will impact user experience and search engine optimization SEO.
This can lead to visitors leaving the website before it fully loads in the web browser. Search engines like Google also use website speed as a ranking factor.
So having the hosting provider tune your website to be as fast as possible is a great idea.
If you have ever tried to speed-optimize a website, it's not an easy thing to do. So offloading this task to the hosting provider's team is really the way to go.
Slow-loading websites are less likely to appear in search results.
Having a faster website will improve your online marketing and will help to increase your search engine ranking. This will help to keep people on your website longer. It will also lead to more people visiting your website and improve your online marketing efforts.
2. More WordPress Security
WordPress website security is crucial in protecting your website against online threats, especially in today's internet. Managed WordPress hosting providers offer more security features and monitoring to keep your website safe.
These features include malware scans, increased firewall protection, more frequent security updates, and better 24/7 monitoring.
Website security is vital for online businesses in today's internet. With good security measures and regular WordPress updates, your website will be better protected from online threats.
These security features typically include:
Daily Malware Scans - Daily Malware scans help to detect and remove malicious software from your website
Web Application Firewall - A Web Application Firewall helps to prevent unauthorized access and malicious traffic from entering your website.
SSL Certificates - SSL certificates encrypt website data, keeping it protected from your website all the way to the customer's browser. This allows for better customer data protection.
24/7 security monitoring 24/7 website monitoring helps to quickly detect any problems. It alerts the techs so they can do a review and resolve the issues.
These security features of managed WordPress work together to better protect your website. This is an excellent benefit if you are unfamiliar with setting up and supporting your own website.
Managed WordPress hosting is an excellent choice for website performance, security, and support, ensuring your website is at its best.
3. Regular WordPress Updates and Backups
Another big advantage of Managed WordPress hosting is that it provides regular software updates. This means better protection for your website from known and unknown threats.
Managed WordPress hosting will save you a lot of time and headaches as it offloads the work back to the hosting provider. This allows website owners to focus on creating content and growing their businesses.
Daily automatic backups help protect against website problems, as the provider can quickly recover the website if something goes wrong.
Some Managed Hosting providers will keep backups for six months or more to better protect their clients' data. This allows the website to be restored before the compromise in case of a delay in malware discovery.
Keeping WordPress and your plugins updated is essential to ensure website security and functionality.
Updates will typically include security patches along with some bug fixes. These updates will help better protect your website from software vulnerabilities and improve its performance.
Managed WordPress hosting offers several advantages over manual updates and doing everything yourself.
4. Higher Level of Customer Service and Support
Customer support is essential for website owners when selecting a hosting provider.
Website owners may face technical issues that they are unable to solve themselves. This is where having more reliable customer support comes in.
Reliable customer support is crucial for resolving these issues and reducing their impact. Issues include website downtime, security breaches, and other problems that may harm the business and brand.
Good customer support can also provide peace of mind by knowing that help is available when something goes wrong.
Customer support is an essential aspect of any website hosting service. This can help website owners focus on creating content and growing their businesses instead of worrying about technical issues or website management.
Disadvantages of Managed WordPress hosting
Managed WordPress hosting offers many advantages, such as improved website performance, security, and customer support. But, it does come with a higher cost than standard WordPress hosting.
This cost could be a problem for website owners who are currently on a limited budget.
Managed hosting providers handle website updates and backups, allowing owners to focus on their businesses. They also offer much better customer support where you may not have to touch anything yourself.
Managed WordPress hosting is an excellent option for website owners looking to improve their website's functionality and user experience.
Is managed WordPress hosting worth it?
Yes, Managed WordPress hosting is an excellent option for small business owners. It provides more benefits than standard hosting that, make it well worth the extra cost.
Managed WordPress also provides enhanced security features, including regular malware scans, firewalls, SSL certificates, and 24/7 security monitoring.
For small business owners lacking the expertise or resources to handle website security, managed hosting is a great option.
With managed hosting, website owners can rest. It assured me that their website is secure and running at peak performance, allowing them to focus on growing their business.
Conclusion
Managed WordPress hosting is ideal for those without technical experience, such as small business owners or bloggers. It provides a hassle-free website management solution that offloads the work to the hosting provider. It also focuses on ensuring optimal website performance, security, and support.
The cost may be higher, but the long-term benefits are worth it. With managed WordPress hosting, you can focus on running your business while leaving the technical details to the professionals.
Managed WordPress hosting is a smart investment for website owners.