What Does a Web Hosting Provider Do?
Posted on April 07, 2023 | By Verity Hosting Business Post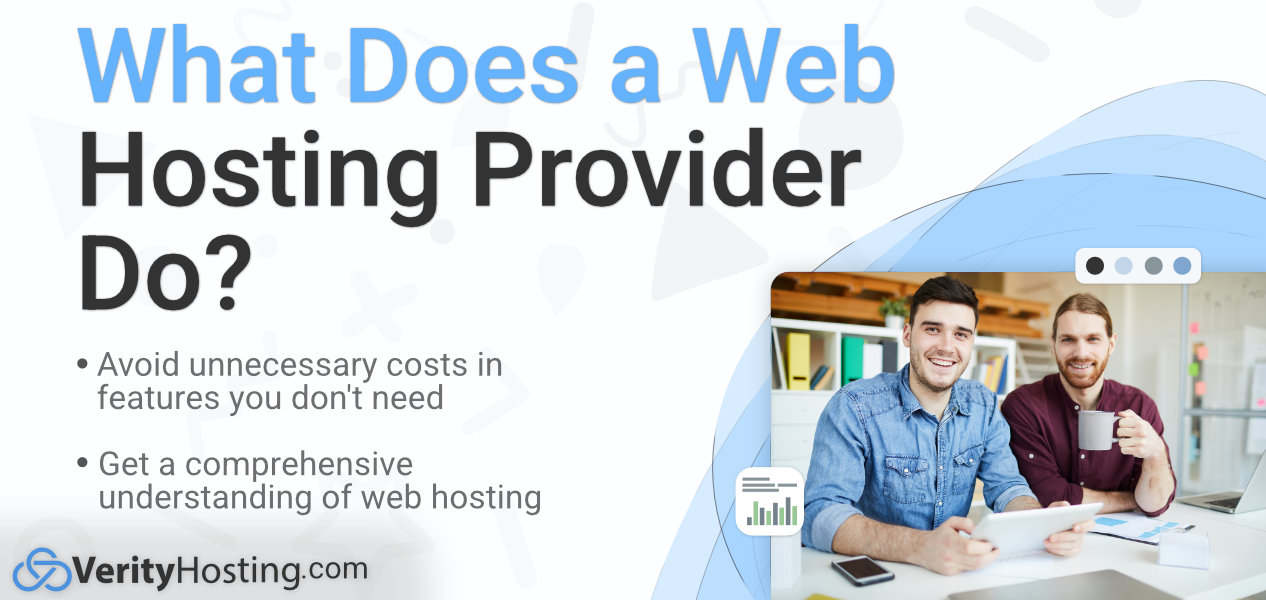 What Does a Web Hosting Provider Do?
A web hosting provider is a company that offers services to store and display your website on the internet.
They maintain, secure, and manage servers that store websites, ensuring all content remains available to visitors 24/7.
By utilizing advanced technology such as firewalls, load balancing systems, and backup systems, web hosting providers deliver reliable service at the highest possible quality.
Furthermore, most providers offer features such as domain name registration, email accounts, and FTP access so that customers can have everything they need in one place.
With the help of a web hosting provider, businesses can create a professional online presence with minimal effort.
What is a Web Hosting Provider?
A web hosting provider is an Internet service company that allows individuals and organizations to make their websites accessible via the World Wide Web.
The provider offers various web hosting plans for businesses or individuals, depending on the website's size, complexity, and needs.
Through web hosting services, the provider provides space on a server and connectivity to the Internet for websites to be accessed by users.
Types of Web Hosting Providers
Shared Hosting Providers:
Shared hosting providers offer multiple websites hosted on a single server, with each site sharing resources such as processing power, disk space, and bandwidth.
This type of web hosting is ideal for small websites with low traffic volumes. It is generally cost-effective since resources are shared amongst other sites and not dedicated solely to one website.
Dedicated Hosting Providers:
Dedicated hosting providers offer an entire server dedicated solely to one website or organization.
As no resources are shared with other websites, this type of web hosting is suitable for large enterprises or high-traffic websites. These high-traffic websites require more control over their environment to ensure maximum performance with fewer interruptions due to resource restrictions imposed by shared hosting plans.
VPS Hosting Providers:
VPS (Virtual Private Server) hosts provide a virtual private server environment which isolates each customer from all other customers hosted on the same physical machine yet can still provide access to use shared resources such as processing power, bandwidth, and storage space within limits set by the host provider based on each customer's package plan level.
VPS hosting plans are ideal for companies needing flexibility regarding resource usage while still having an isolated environment that provides better security than shared hosting plans.
What Services Do Web Hosting Providers Offer?
1. Server Management:
Web hosting providers offer their clients server and hosting management services to ensure their websites run smoothly and efficiently.
These services include monitoring the server, performing regular maintenance tasks, upgrading the software and hardware, troubleshooting server issues, and providing technical assistance.
Providers also use proactive measures such as load balancing and disaster recovery plans to ensure uptime rates of 99.9%.
2. Technical Support:
High-quality web hosting providers usually provide a wide range of technical support services for their clients ranging from basic help desk assistance to complex problem-solving procedures.
Besides providing customer service over the phone or live chat, they also offer tutorials, FAQs, user manuals, and other useful resources which can help customers quickly resolve any issues they may be facing.
3. Security Features:
Security is one of the major concerns when it comes to web hosting providers, and they typically provide a variety of security features to ensure the safety of clients' data.
These can include encryption for data in transit and at rest, firewalls for protection against malicious attacks, malware scanning for malicious code detection and removal, DDoS protection from large-scale distributed denial-of-service attacks, automated backups for restoring lost data quickly in case of emergencies, and more.
4. Backup & Recovery:
Web hosting providers also offer backup and recovery solutions that enable users to restore lost data quickly in case of emergencies or a disaster.
These services typically involve regular backups stored on secure servers with reliable access methods so that even if something goes wrong with your primary system, you still have a way to get back up and running quickly without losing essential information or data snippets.
5. Domain Name Registration:
Domain name registration is another service offered by most web hosting providers.
This allows customers to easily purchase a domain name for their website without going through a third-party domain name registrar.
The provider will usually handle all aspects related to domain name registration. This includes creating DNS entries and transferring domains between different registrars. This is so customers don't have to worry about the technical aspects of setting up their website online using a custom domain name.
How Do Web Hosting Providers Work?
1. Explanation of a Server:
A web hosting server is a computer designed to store and serve website files and data over the internet.
It works by connecting with other computers through the internet, allowing users to access the data and websites stored on the server.
The hosting provider will provide an interface for managing the server and its associated services, such as databases, email, FTP, and more.
2. Allocation of Resources:
Web hosting providers allocate resources such as disk space, bandwidth, and processor power to each customer. The amount of resources allocated depends on which hosting plan the client purchased.
This allocation of resources can be changed or adjusted depending on the needs of the customer's website.
Providers may also include additional features such as automatic backups, monitoring tools, or other types of support.
3. Management of Multiple Websites:
Web hosting providers are in charge of managing multiple websites for customers at once.
This includes ensuring that all websites run optimally and securely and keeping track of domain name registrations and renewals.
This will also include configuring email accounts, setting up databases, and maintaining proper backups across all sites hosted under their service.
4. Maintenance of Servers:
Web hosting providers are also responsible for maintaining their web servers on a regular basis in order to ensure optimal performance at all times.
Maintenance typically includes software updates to keep the servers secure from malicious attacks.
Additionally, they must manage their servers' power consumption levels to control energy costs while still providing reliable service to customers.
Choosing the Right Web Hosting Provider
There are a variety of hosting packages available, so it is important to select the one that fits your budget and meets your needs.
When comparing prices, take into account any additional features or services included in the hosting plan.
Consider the cost of domain registration, email accounts, and other extras that can add up over time.
1. Uptime:
Uptime is an essential factor when selecting a web hosting provider. You want to make sure your website will be accessible 24/7.
It is important to choose a reliable hosting provider with good uptime averages. It is also important to review the hosting provider's backup schedule.
Many providers offer service level agreements (SLAs) that guarantee a certain percentage of uptime each month.
2. Scalability:
Depending on your website's or project's size, you may need to upgrade or downgrade your hosting plan.
Look for a provider that offers flexible plans so you can scale up or down depending on usage and traffic demands.
3. Customer Support:
If something goes wrong with your website, you'll want quick access to someone who can help resolve the issue quickly and efficiently.
Most providers offer support via chat, phone, and email. Make sure you choose one with quality customer service.
4. Security:
Security should always be top priority when selecting a web hosting provider. Look for providers who use secure servers and firewalls, as well as offering data encryption services.
Additionally, ensure they have backup systems in place in case of system failures or natural disasters so your data won't be lost forever if something unexpected occurs.
Comparison of Popular Web Hosting Providers
A comparison of popular web hosting providers requires research and exploration into various features and services available.
Each hosting provider offers different plans, pricing options, hosting types, and uptime guarantees.
To thoroughly compare web hosting providers, it is important to consider the price and the other features mentioned above.
Additionally, customers should evaluate the reviews of each hosting provider to ensure that users are getting a quality service.
By comparing web hosting providers on multiple dimensions such as these, customers can better decide which provider to use for their website.
Conclusion
A web hosting provider offers users access to store their website files on the Internet.
This allows other people to access and view the website from any device in any part of the world.
Web hosting providers also provide support services like domain registration, maintenance, security, and backup.
In conclusion, a web hosting provider is a critical component of maintaining an online presence, allowing websites to remain accessible and secure for visitors across the world.
Image Credits
All photos used have been curated by Verity staff
The editorial staff at VerityHosting is a team of hosting experts with over 25 years of experience managing, monitoring, and maintaining hosting services for small businesses.