Do I Need a Website Manager?
Posted on Febuary 28, 2023 | By Verity Hosting Business Post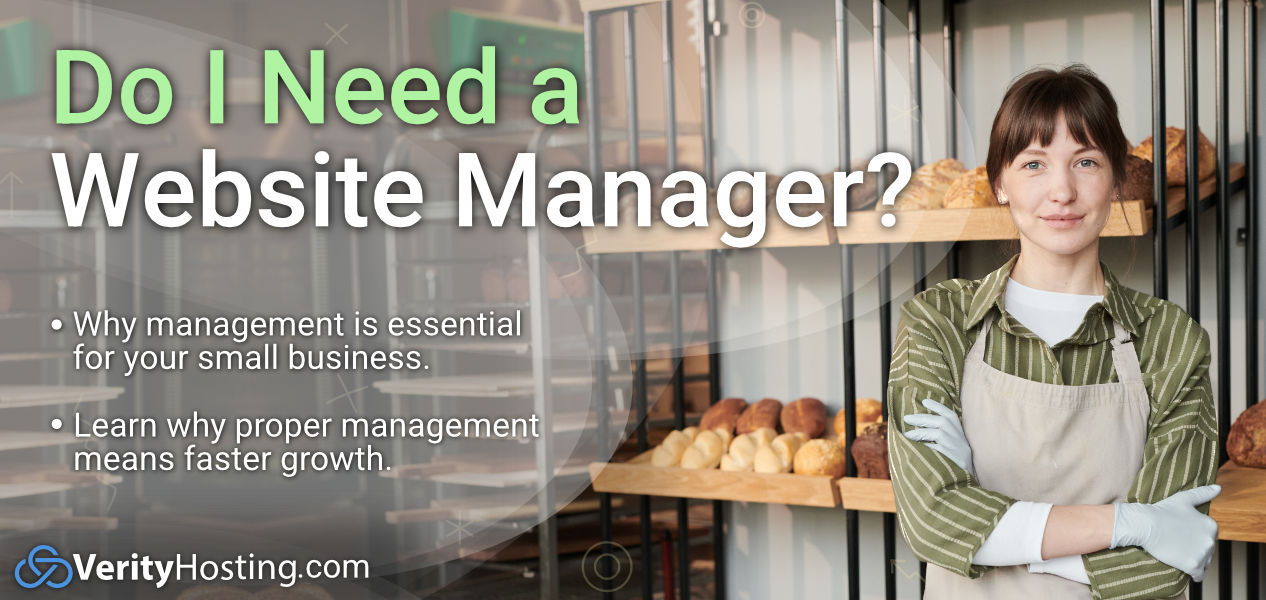 Do I Need a Website Manager?
Internet competition today is fierce. Gone are the days of creating a website and expecting customers to find you online easily. It takes much more effort today to get your business noticed on the internet.
So can you manage everything yourself? Do you have the time? Do you have the experience or expertise?
In this article, we'll review what a website manager does and if you need one to help manage your website.
What is Website Management?
Website management refers to the process of updating and maintaining a website to keep it running at its best.
Management includes security updates, performance optimization, analytics tracking, website content updates, and overall website maintenance.
Website management also ensures that your website is up to date with the latest technologies. These include mobile-friendly design, analytics tools, and search engine optimization (SEO).
SEO stands for 'search engine optimization' It's the practice of tuning your website to reach the top of the search results. Ultimately driving more traffic and, therefore, customers to your website.
In addition, management includes monitoring website performance for speed, uptime, and overall user experience.
To properly manage a website requires expertise in several areas with constant learning as things change regularly on the Internet.
In summary, website management is a continuous process of updates, monitoring, and improving a website. This ensures that the website is always fast, mobile-friendly, and up-to-date.
What Does a Website Manager Do?
Website managers are responsible for the administration of your website. Some of the manager's responsibilities may change from manager to manager but will typically include the following.
1. Website design - The manager will help coordinate the site's design and development. This includes making sure the website is functional and easy to use.
2. Adding new content - The manager is there to help optimize the website to attract more customers and, ultimately, sales.
3. Website Security - The Manager will be responsible for keeping the website secure with regular updates and continuous security monitoring. This can involve security updates, sometimes as often as every few days.
4. Search Engine Optimization - A manager is involved with a website's Search Engine Optimization SEO. Tuning the website to make it more search engine friendly.
5. Website Statistics and Reporting - Managers are responsible for setting up and creating analytics reports. These reports show how the website is performing with statistics on website visitors.
Managing a website takes many skills to get done write. Today you will see more of a management team working on a website. The management team usually includes a security specialist, graphic artist, copywriter, and marketing consultant.
Do I Need a Website Manager for My Business?
Whether or not you need a website manager is really up to you. If you want to grow your business online, hiring a website manager would be a good idea.
Let's review this question a bit more before deciding what's best for your business and what you want to do.
There are several things to consider when hiring a website manager for your business. Here are some of the key points to think about.
1. Your Business Goals: If you are looking to grow your business and expand your customer base, a website is essential to that goal. Your website is the place all your online advertising is directed to.
For this reason, your business requires proper website management.
A managed website will help improve your business brand.
2. Management Experience: if you already have website management experience, you may consider doing the work yourself. However, hiring a manager would be your best option if you need more experience or just don't have the time.
3. Time constraints: Managing your website can be time-consuming. When you're running your own business, your time is valuable. You may not have the time to manage your website properly.
4. Cost considerations: Hiring a website manager will add extra costs to running your business. However, if your website is essential to business growth, hiring a professional to manage your website would be beneficial.
When deciding to hire a website manager, it's a good idea to make a list of all your goals first. Reviewing your website's size and budget is also a good idea. This will help determine your costs now and in the future and give the manager a good idea of where you want to take your company.
Pros and Cons of Managing Your Own Website
Here are some advantages and disadvantages of managing your website yourself. Understand that a lot goes into managing a website, so this decision should not be taken lightly.
Advantages:
1. Save Money: You save Money as you take on the responsibility of managing and maintaining your website.
2. Add to your education: You learn more about SEO search engine optimization, website design, website security, and online marketing.
3. Complete Control: If you manage your website, you will have full control over all aspects of your site. You will also be responsible for ensuring that everything is done right.
Disadvantages:
1. Time-Consuming: Managing a website yourself can be time-consuming. Website management requires learning and then doing the updates and maintenance on a regular basis. Ultimately taking time away from your other essential business tasks.
2. You are on your own: - By doing everything yourself, you are on your own and have no one to fall back on if something goes wrong. This pressures you to ensure everything is done right the first time. Or spend your time trying to debug problems.
3. Technical challenges: Properly managing a website is not an easy task. It does require knowledge in multiple areas. You may struggle to maintain your website properly without the necessary talent.
4. Limited software and resources: Website managers have access to many different software resources, including SEO software, analytics, and tracking tools. Purchasing these items yourself can be expensive, potentially several hundred a month.
5. Security Risks: Website security can be difficult to manage. It's one thing to try and configure your website security on your own. It's another thing if your website gets compromised.
Managing your website yourself will reduce your cost and allow you to learn more in all areas of website management. However, it can also be time-consuming, challenging on the technical level, and problematic due to security risks as things need to be done correctly.
Benefits of Hiring a Website Manager
Hiring a website manager does come with some real benefits. The biggest benefits will include improved website performance. Enhanced website security and continued website updates that help drive more customers and sales.
Let's face it your competitors have most likely hired someone to manage their website. For this reason alone, hiring someone to manage your website is a good idea.
Let's look at some of the benefits of hiring a professional website manager.
1. Improved Website Performance: A website manager will help ensure your site is well-optimized in all areas. These areas will include speed, functionality, security, and user experience. A good manager will also help to monitor site performance and help problem solve.
2. Better Security: Having a website manager means you have someone able to secure your website. This includes adding and updating SSL certs, firewall configuration, and regular backups. They can also stay updated with the latest security threats and better protect your website and business.
3. Increased Traffic: One of the primary duties of a website manager is to help improve your website traffic and visibility. This is done using search engine optimization (SEO) strategies. They will also review user behavior to help pinpoint areas that need improvement.
4. Better Content Management: A website manager is there to help ensure that your website content is accurate and up to date. They can also help with new content creation and help edit existing content. This will help with website growth and better customer engagement.
5. Technical support: A good website manager will not work alone. They will have a team behind them, including graphics designers, security experts, and marketing and SEO professionals.
Although a website manager will be well versed in most management areas, they may still require outside support. This is common today, as the internet is much more complex than just a few years ago.
6. Larger, more Complex Websites: It is much harder to manage a big website with many pages, features, and functionality. Having a dedicated website manager can really help with this type of situation. A website manager will make sure your website is properly optimized and user-friendly. Improving customer experience and helping to achieve your business goals.
7. High-traffic Websites:If you run a high-traffic website, it must be properly optimized for speed and performance and scale appropriately during high-traffic times. A website manager will help monitor your site, look for improvement areas, and improve speed optimization.
8. Websites Security Concerns: If your website transfers sensitive data, it's critical to have a website manager who can implement robust security measures. A good website manager will stay up to date with the latest Security best practices and help ensure your website is well protected.
Hiring a website manager can benefit you more than trying to do everything yourself. The added benefits to your business include improved performance, increased Security, increased customer engagement, and access to technical expertise.
Drawbacks of Hiring a Website Manager
While hiring a website manager can provide numerous benefits, there are also some potential drawbacks to consider:
1. Limited budget: If you have a limited budget or are just starting, hiring a website manager may not be financially feasible. In this case, you can manage your website or outsource specific tasks, such as design or development, on a project-by-project basis.
In this situation, look for a managed hosting company that can help with many of the tasks a full-time manager would do. You can then look at outsourcing specific tasks such as design or SEO on a project-by-project basis.
2. Language Issues: When hiring a website manager, finding someone who speaks your language is a good idea to ensure everything is clear. Establishing good communication with your manager is essential so you know things are getting done right.
3. Finding the Right Website Manager: Finding the right website manager can be challenging. Our company does offer website management services. If you would like to find out more, give us a call at 1-800-711-1443
Conclusion:
Deciding if you need a website manager depends on your level of expertise. If you have experience in website design and marketing, you may be able to do most things yourself.
If you have yet to gain experience in these fields, hiring a website manager is a good idea.
Image Credits
All photos used have been curated by Verity staff
The editorial staff at VerityHosting is a team of hosting experts with over 25 years of experience managing, monitoring, and maintaining hosting services for small businesses.