Do's and Don'ts of Working from Home
Posted on December 22, 2022 | By Verity Hosting Business Post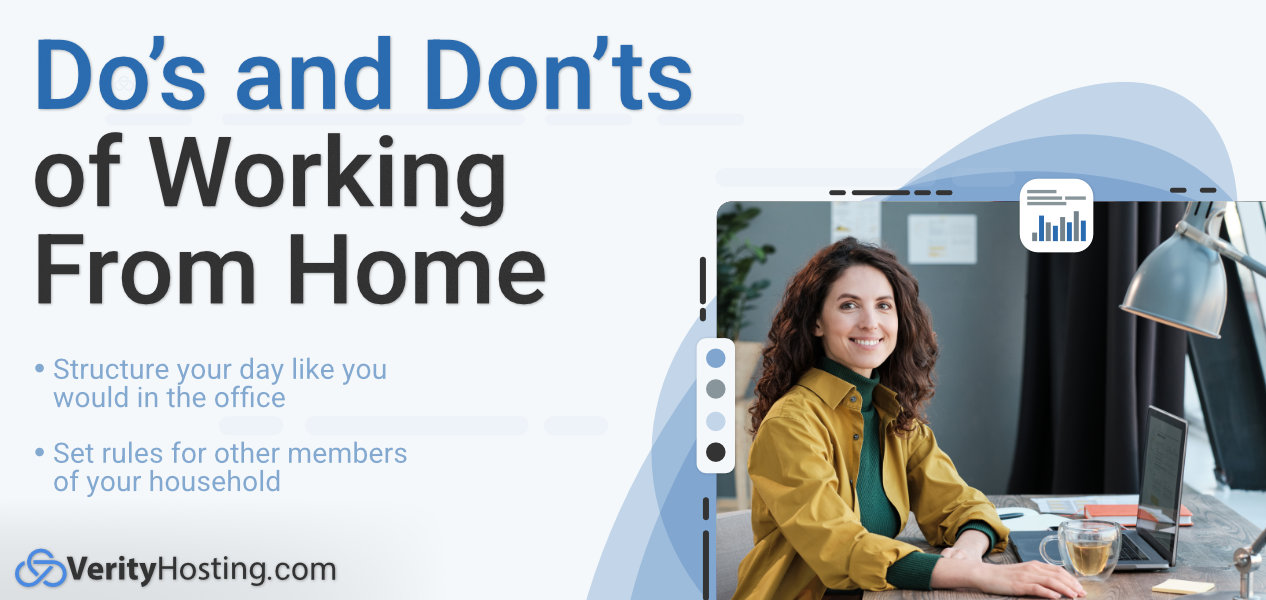 We have some fantastic tips for you to follow if you are thinking about working from home or have already been working from home
Here are our top suggestions for do's and don'ts of working from home
1. DO - Buy yourself a good office chair
The tension on your back, neck, and shoulders increases when you work while sitting on your sofa or at the dinner table. It could seem like a great, casual way to work in the short term, but it rapidly becomes uncomfortable. It can hurt both your physical health and your productivity.
A quality office chair is an investment that is worthwhile whether or not your employer will help with the expense. Look for a chic chair with adjustable seat and back angles and good lumbar support. In a home office setting, leather or mesh office chairs look great and can help with your productivity and keep you comfortable during a long work day.
2. Don't - Work in your bedroom unless you have to
It's essential to draw a clear boundary between work and personal home areas.
If you have a spare bedroom, turn it into your home office and close the door at the end of the day. The dining room or even a corner of the living room will have to do if you don't have a place that can be divided in this manner.
Consider setting up a tiny workstation area to create a conceptual barrier between work and home, even if there isn't a physical one.
Again avoid working in your bedroom if you can. It's crucial to maintain ownership of this personal private areas. plus, you don't want your colleagues to see your unmade bed or dirty laundry if you have to join a video call unexpectedly!
3. DO - Structure your day like you would in the office
Set a time to start work each day and keep to the schedule. Remember, you must learn to be self-motivated and handle your time wisely at home.
Make a timetable for your activities and when you'll do them, this can help keep you on track.
Plan for what you'll do, then set reminders or add activities to your online calendar. A scheduled lunch break and the beginning and ending periods of your workday should be a central part of your plan.
4. Don't - Do the housework during your workday
It's simple to imagine that doing a load of laundry while you work would be convenient, but in fact, it will only serve as another distraction.
Don't perform tasks at home that you wouldn't or couldn't perform when working in an office. The general cleaning, washing dishes, or vacuuming will need to wait until after your work day like it usually does!
5. DO - Set rules for other members of your household
There may be other individuals in your household while you work from home. Make sure your family or housemates know when you are working and respect your job commitments.
Distractions are inevitable if you have children in the house. Try to schedule specific break times so you can spend time with them and give them your full attention.
If you have a conference call scheduled, make sure you have a way to ensure you are not disturbed. Think about putting a schedule up on the door, using a basic "BUSY/NOT BUSY" indication. You can also use a simple signal, like wearing headphones, which implies don't interrupt me when I'm working.
Setting the expectation for others that being at home doesn't mean you are always available is essential.
6. Don't - Be tempted to look at social media
Procrastinating is easy when there isn't the structure of your typical work setting. Although you should never spend more than a few minutes surfing, you can quickly be drawn into a distraction that reduces your productivity.
Get rid of any shortcuts from your browser and log out of your personal accounts throughout the workday to help you resist temptation. Out of sight, out of mind, as they say.
7. DO - Get some natural light and fresh air
If needed, position your desk next to a window. This will help your sleep cycles and minimize visual fatigue imposed by insufficient exposure. Exposure to natural light can help you stay awake, more focused, and more effective during your workday.
You won't be spending as much time outside since you don't have to leave the house to get to work. So not a bad idea to open up your windows to let some air in as an additional approach to fight fatigue.
8. Don't - Sit still for too long
Working from home provides you extra reasons to stay seated at your desk and may prevent you from having a reason to move more.
Purchase a standing desk or a balancing ball chair if you want to encourage greater mobility throughout your workspace.
It is a good idea to get up and walk about frequently. Simple activities like sprinting up and down the stairs or even strolling around the home can help. Take a stroll outside or work out at home during your lunch break.
9. DO - Stay connected to your colleagues
Being separated from the rest of your team when working remotely can be distressing. To remain productive at home it's important to find the correct support resources to keep you and your team in touch.
To communicate with your manager and coworkers, you can use a combination of instant messaging, project management software, and videoconferencing technologies.
Using these technologies can help you stay connected with your colleagues and can aid in avoiding a sense of isolation, which can help with your daily mental health and keep you more productive.
10. Don't - Eat at your desk
It is a good idea not to eat at your desk. Take a genuine break, and eat at the kitchen or dining table. You will also be able to take a break from your work and allow yourself some time to rejuvenate by separating your eating area and work area.
11. DO - invest in the right equipment
Your company should have purchased the necessary equipment, such as a laptop and mobile phone.
Install a nice chair and desk at your home office, along with an external monitor, laptop mouse, and keyboard. Some employers will provide such equipment allowances to their employees.
12. Don't - work from just anywhere
While a change of location might help you be more creative, it's better to have a routine and a designated workplace.
You could consider joining a local co-working place to network with other professionals instead of camping out at a local coffee shop.
And no matter how tempting it might be, avoid working from your sofa or bed. It's not a good background for a video call, it will give you back pain, and it will be very tempting to fall asleep.
13. DO - decorate your workspace
Try to make your office as delightful a workplace as you can. Consider including family portraits, friends' photos, a message board, and houseplants. Additionally, you should invest in a good desk lamp to prevent eye strain on dark days.
14. Don't - forget to take regular breaks
It's a good idea to take regular breaks just like you would be doing at the office. A little break from your screen can help prevent headaches, eyestrain, and even back pain.
Conclusion
Not everyone can work from home, but until you try, you will never know if it's right for you. I hope this article has helped you understand the essential Dos and Don'ts of working from home.
Image Credits
All photos used have been curated by Verity staff
The editorial staff at VerityHosting is a team of hosting experts with over 25 years of experience managing, monitoring, and maintaining hosting services for small businesses.