How To Grow Your Business Online
Posted on January 13, 2023 | By Verity Hosting Business Post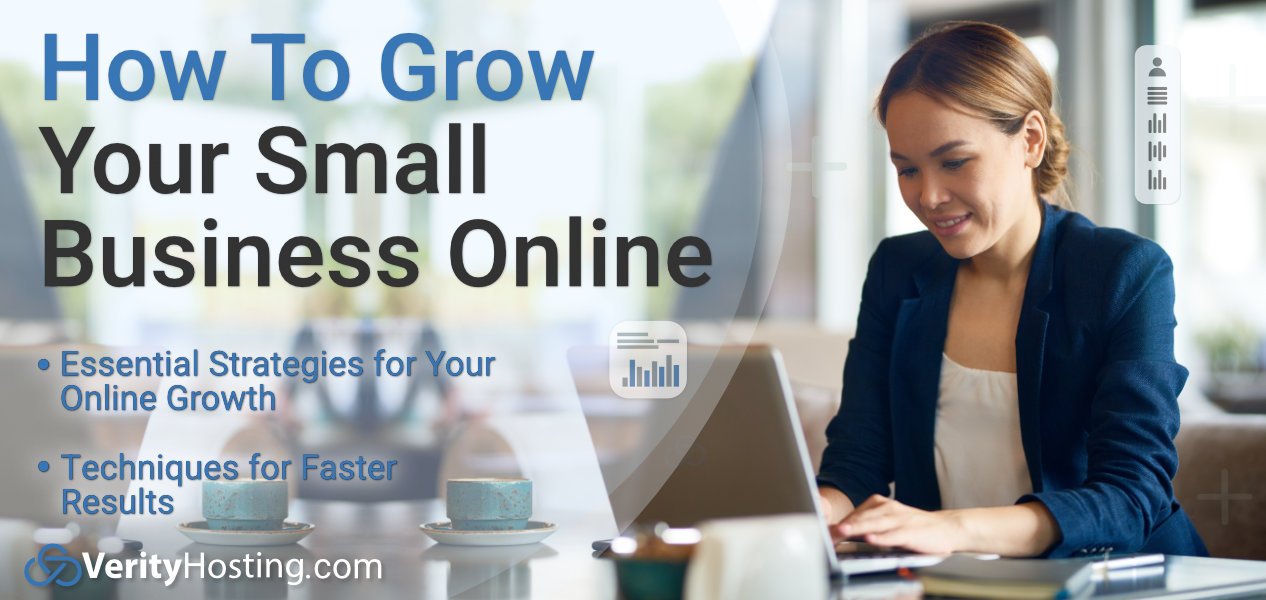 How To Grow Your Business Online
In this article, we'll walk you through the how-tos of growing your small business online.
We'll cover everything from targeting the right audience to driving more traffic to your website.
By the end of this article, you'll be ready to take your business to the next level.
Understanding the Benefits of Growing Online
When running a business, you're constantly looking for ways to grow and expand your customer base. Online marketing is a great way to do this.
However, our research shows that most small businesses are not paying enough attention to their online advertising in the right way. Many small businesses may not truly realize that they are waisting time if they are not focusing their efforts in the right areas.
Let's take a look at some of the key benefits if you can get your efferts going in the right direction:
Access to a much larger audience
Your marketing will work for you 24/7
Increased business growth
Increasing brand awareness
Overview of the Online Digital Landscape
No matter what type of business you have, there are a few key areas you should focus on to make sure your business is getting the proper exposure.
1. Search Engine Optimization - SEO
Hiring someone to do proper Search Engine Optimization is one of the best things you can do is ensure your website is seen by the search engines. Since 94% of search engine traffic is through Google, optimizing your website using Google's SEO suggestions is an excellent idea.
Optimization should include up-to-date content, relevant keywords, and easy navigation so customers can quickly find what they're looking for.
Additionally, the look and feel of your website and branding are essential; customers want it to be esthetically appealing and trustworthy.
2. Social Media
Getting involved in social media can help build relationships with potential customers and give you a better understanding of what your customers are looking for.
When it comes to social media, you will need to choose the right platforms that make sense for your industry and create content that helps to engage followers and promote your brand awareness.
3. Email Marketing
Having a good email marketing strategy in place can be a great way to keep customers informed about events or promotions.
With the right messaging and timing, email campaigns can help drive sales for your business. We hear from small business clients regularly that look to email marketing as their primary driver of repeat sales.
Note:

Email Marketing is still one of the most effective ways to promote your small business. Even more effective than social media, SEO, or affiliate marketing.
Identify Your Target Audience
Knowing your target audience will help you focus your efforts and create content that resonates with the people you are trying to reach.
What Is a Target Audience?
Your target audience is the group of people that are looking for your products or services. And is the group of customers that your marketing should be geared towards.
Some key things you will need to know:
Where do your clients spend most of their time?

What are their hobbies, average age, and location?

Where do they frequent the most online?

What social media platforms are you using?

What do they value?

How can your product bring value to them?
Once you have a good idea of your target audience, it's time to think of ways to engage them.
Find out where they hang out online and how to present yourself in a way that speaks directly to your audience.
You should use social media, email newsletters, or even blog posts to do this. You can also use tools like surveys and questionnaires for more insights on what kind of content would be most relevant for them.
Create Quality Content
One of the most important things you can do to grow your business online is to create quality content.
When you produce great content, you establish yourself and your brand as an authority in your industry.
You also make it easier for people to find you online, attracting more visitors to your website.
But creating great content is easier said than done. It takes time and effort to produce something people want to read or see. And it's important to remember that only some are interested in the same thing.
You must create content relevant to your target audience and in a direction that meets their needs.
So how do you go about creating quality content?
Know your audience:
What are they looking for?
What do they want to know?
Make it relevant: Ensure your content is relevant to your target audience and meets their needs.
Write for humans, not robots: Write in a style that's easy to read and understand.
What do they value?
Don't copy someone else's content. Be original and offer fresh insights
Engage and Nurture Your Audience
Now that you have a better idea of creating content that speaks directly to your target audience, it's time to engage your audience, which means building an excellent ongoing customer relationship with them.
Engaging and nurturing your audience doesn't have to be complicated or overly time-consuming. All it takes is a few simple steps, such as liking their comments, sharing their content, replying to their questions and messages, and following up with them after they've completed an action (such as purchasing your product).
You should always acknowledge and thank your customers for their purchases or just for being a customer, as even the smallest interactions are meaningful.
By acknowledging your customers, you foster better relationships with them. If you do it consistently, you'll naturally grow trust with your customers over time, driving more sales for your business.
Harnessing the Power of Social Media
You've probably heard the phrase, "build it, and they will come." But in the digital age, that's no longer true. You have to go out there and find your audience; social media platforms are a great way to do that.
When it comes to social media, think about it like this: It's a megaphone for your business.
It allows you to reach current and potential customers with your message directly.
Not only that, but it also allows you to build relationships with them, which is crucial for any business.
The beauty of social media is that it's so versatile. You can use it to drive traffic to your website, increase brand awareness, sell products and services, and much more.
The possibilities are endless! So don't be afraid to experiment and see what works best for you and your business.
Leverage Email Marketing
Email is one of the most powerful tools you can leverage to grow your business online.
It can provide an avenue to build a relationship with your customer in one place they look at daily: their email inbox.
The key to successful email marketing is ensuring that your content is relevant and engaging.
That means creating a segmented list and writing emails tailored to each individual's interests.
You should also ensure that your emails come at the right time, for instance, sending out a special offer on the customer's birthday.
Another effective way to use email marketing is through automation.
Automation allows you to send regular emails based on triggers like subscriptions, abandoned carts, purchase milestones, user activity, and more.
Automated emails can help you increase engagement and maximize conversions from customers who are already familiar with your brand.
Take Advantage of Paid Advertising
Once you've established your online presence and begun to grow your brand organically, you should start investing in paid advertising.
Paid advertisements can quickly jumpstart the growth of your business and can help draw in a more extensive customer base in a shorter amount of time.
There are various paid advertising options, from Google Ads to influencer marketing to paid ads on social media platforms.
Depending on the size of your budget and the goals you set for your business, you can find an affordable and effective way to bring more customers to your landing page.
It is important to note that an investment in paid advertising does not guarantee results.
You must thoroughly research how best to utilize these channels and ensure the advertisement targets the right customers. Otherwise, you may be wasting money on ads that don't reach their intended audience.
Utilize Automation Tools
Automation allows you to provide a better customer experience while saving time.
Automation tools can save you from missed opportunities by automating tedious tasks like scheduling emails, replying to customer service inquiries, and more.
Plus, automation helps you stay organized and efficient. With automation, you can send emails or other notifications regularly or schedule tasks to be completed on certain days.
Automation ensures that you're always on top of things and that no task is overlooked.
With automated responses or follow-up emails, customers get the answers they need. And you get more time to focus on other parts of your business.
Leveraging SEO and Promoting Your Brand
SEO (Search Engine Optimization) is essential when working to increase your brand's visibility.
Not only does SEO help potential customers find your website, but it also helps search engines understand what your website is about.
With the right SEO optimization, you can easily save money on traditional advertising and boost your online presence.
Another great way to promote your brand online is by leveraging the power of social media platforms.
With an engaging social media presence, you can reach a wider audience than you ever could through traditional forms of marketing and give your brand an edge in today's digital marketplace.
When using social media to build your brand, you must post regularly and interact with customers to build relationships that will drive loyalty.
Analytics to Further Optimize Your Marketing Efforts
Analytics is an essential part of optimizing your customer interaction. You can track key performance indicators (KPIs) such as website traffic, engagement, conversion rates, and more with analytics.
Measuring these KPIs will help you focus on what works and doesn't, allowing you to make informed decisions about how to grow your business online.
There are several tools available to help you analyze analytics and improve your website's performance. One of the best tools to start with is Google Analytics. Google Analytics will give you insight into your website's visitors and where they came from, i.e., social media, online search, or another website.
This information will help improve visibility by targeting customers with the right content.
Additionally, tools like SEMRush allow you to see how users interact with your website so that you can identify potential areas for improvement.
Reviewing your analytics data is a great way to understand your customers better and optimize your online marketing for better results!
Measuring Your Progress
Once your online marketing strategy is in place, regularly measuring and evaluating your progress is essential.
This data will allow you to make adjustments and ensure you get the most out of your marketing efforts.
Start by looking at your website and social media analytics data. The analytics data should include website engagement, revenue, and conversion rates.
It is a good idea to have reports sent to you regularly. You can do this through Google Analytics or a paid service like SEMRush.com.
Use this information to assess the effectiveness of your online business growth strategy and make improvements where necessary.
You want to start introducing new tactics or fine-tuning existing ones using the latest analytics data. Your online business will continue to grow as long as you collect data, learn from it, and take action.
Tips and Resources for Growing Your Online Business
So, now you know the benefits of growing your business online - now what?
Growing a business digitally can seem daunting, but there are plenty of resources and tips to help you along the way.
First, do your research. Look into different platforms that have been successful and read up on the tools and tactics they have used to reach their target audience.
You can also check out other businesses in similar industries to get ideas and inspiration.
Additionally, don't be afraid to ask for help! Countless professionals out there specialize in digital marketing. They can provide guidance when it comes to strategizing a plan for success to maximize your ROI.
Finally, take advantage of the many helpful online resources available through social media sites such as Facebook, YouTube, Twitter, and Instagram.
These platforms offer valuable insights into your target market and give you an idea about what kind of content resonates best with your customers. This can help you create a successful online presence for your small business!
Conclusion
You'll want to create content that engages and entertains your audience and use ads to drive more sales.
Furthermore, being active in forums and online communities related to your industry can help you gain customer trust and recognition while getting more eyes on what you have to offer.
Additionally, offering customers a rewards program or discounts online can encourage them to purchase more of your products or services.
One of the key strategies for gaining customers online is to increase your presence on social media. With millions of people using social media daily, creating and managing accounts on multiple platforms is essential for gaining exposure for your business.
Facebook, Instagram, and Twitter are the most popular platforms for businesses. Still, depending on your customer base, other networks may be just as beneficial.
Remember to stay focused and keep moving forward. The more you put into growing your business, the more you will get out of it.
So get to work and watch your business take off! So, what are you waiting for? Start growing your business online today!
It's a great way to reach new customers and grow your bottom line.
Image Credits
All photos used have been curated by Verity staff
The editorial staff at VerityHosting is a team of hosting experts with over 25 years of experience managing, monitoring, and maintaining hosting services for small businesses.