What is Managed WordPress Hosting
Posted on March 21, 2023 | By Verity Hosting Business Post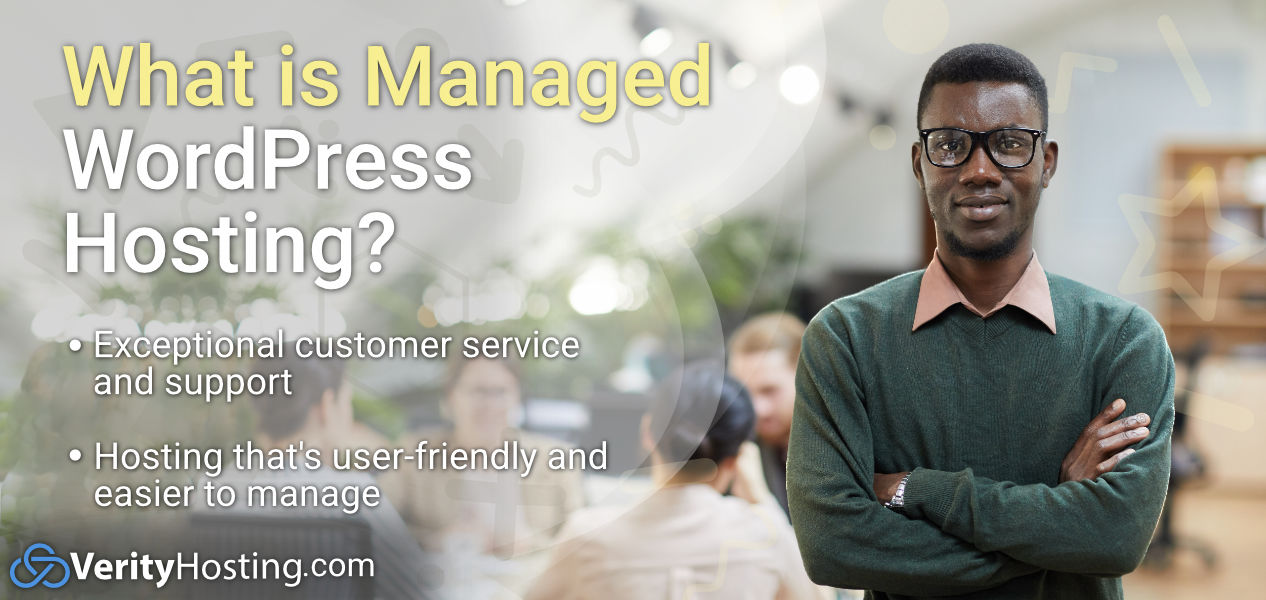 What is Managed WordPress hosting?
Managed WordPress Hosting is web hosting specifically designed for WordPress websites where the hosting provider takes on a lot more of the hosting and maintenance responsibilities.
How much responsibility they take on really depends on the hosting provider you purchase your services from.
In this article, we will explore what managed WordPress hosting is in more detail, its benefits, and why it's a good choice for most small businesses.
You will learn the following:
1. What managed WordPress is

2. The benefits of Managed WordPress

3. Why Managed WordPress is important for small businesses

4. How to choose the best Managed Hosting Service
What is WordPress?
WordPress is free software for building a website using a content management system. A content management system allows you to change online website content more easily.
So WordPress makes it easier for the average person to create a website without learning to program.
To do this, WordPress includes an online admin interface so you can work on your website without worrying about downloading a program to your computer.
All you do is go to your website's admin login page, enter your username and password, and log in to see and use the admin interface.
This allows you to create, modify and edit your own websites as often and as much as you like.
Why Managed WordPress Hosting?
Managed WordPress hosting is a type of web hosting designed for websites that run on the WordPress platform.
Unlike regular hosting, where you are responsible for managing your own hosting account, with managed WordPress hosting, the hosting provider takes on a lot more of the hosting management responsibilities.
These responsibilities usually include regular updates, backups, security, and a much higher level of technical support, ensuring the customer is well taken care of.
When you pay for traditional hosting, you rent server space and resources, but it's up to you to keep your website up-to-date, ensuring it runs well and is secure.
Managed WordPress hosting usually comes with several other features and services, such as automatic security updates, updates to the WordPress core, better backups, a free SSL certificate, and server optimization.
Managed WordPress hosting gives you more support behind the scenes so you can focus on growing your website instead of dealing with technical issues and day-to-day management.
Benefits of Managed WordPress Hosting
Let's look at some of the main benefits of Managed WordPress hosting in more detail. If you compare these features with a traditional hosting account, you will see that you get much more with Managed Hosting.
Speed and Performance
Managed WordPress hosting providers optimize their servers specifically for the WordPress platform, which results in faster load times and better performance for your website.
Security
The managed WordPress hosting service lets you rest easy knowing that your website is in good hands as the provider is responsible for maintaining your website security. Providers will do regular security scans and updates to help keep your website safe from online threats.
Better Technical Support
With managed WordPress hosting, you have access to a dedicated team of experts who can assist you with any technical issues that may arise.
Easy Maintenance
Managing and maintaining your WordPress server is no longer a concern with managed WordPress hosting. The hosting provider is responsible for maintaining the server and some parts of the website, like security updates and website backup.
There are different levels of management which really depend on the hosting provider you go with. It's a good idea to check with the provider on what they offer when it comes to managed hosting.
Convenient Backup and Restore
Most managed hosting providers will offer a better backup solution with the hosting service. Managed WordPress hosting usually comes with automatic backups and easy ways to restore them, making it easier to keep your website's data safe.
Is Managed WordPress Hosting the Right Choice for You?
Hosting your website can be one of the most important decisions you'll make when it comes to creating and maintaining a successful online presence.
For small businesses, it is important that you go with a good hosting provider with a good reputation. Extra customer support and good back are essential as well.
A good Managed Hosting provider will make it easier for you to focus on running and growing your business without worrying about website technical issues.
Conclusion
In conclusion, if you are a small business owner with minimal experience running and managing a website, then managed WordPress is the way to go.
This lets you focus on business growth without worrying about technical issues and maintenance. It is important to choose a hosting company that fits your specific needs and offers the most features.
Whether you're looking for business-friendly tools or more support, there is a managed WordPress hosting solution out there for you.
Image Credits
All photos used have been curated by Verity staff
The editorial staff at VerityHosting is a team of hosting experts with over 25 years of experience managing, monitoring, and maintaining hosting services for small businesses.