What is Website Migration?
Posted on October 13, 2022 | By Verity Hosting Business Post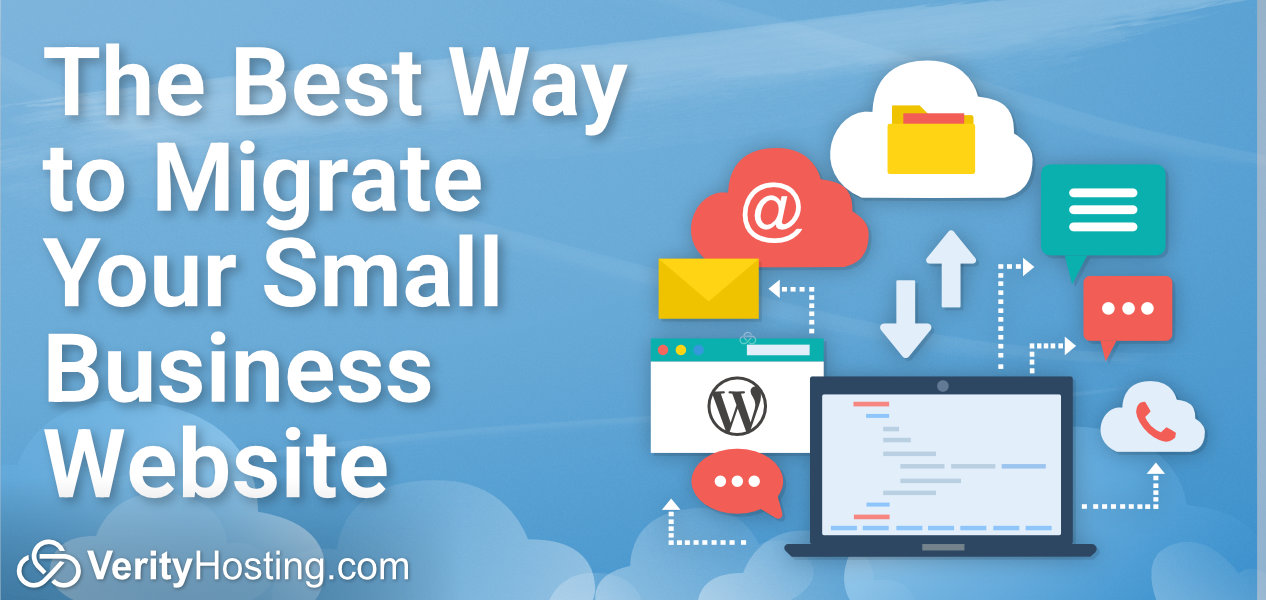 What is Website Migration?
Website Migration is the process of moving a website to a different design, another platform from say Wix.com to WordPress or even another domain name. Other types of migration can be adding an SSL to your site or moving your email to a new domain.
Should I hire a professional to do the migration?
The short answer yes.
Most migration mistakes, especially the really big ones, may not show up for some time. It can take months for Google to see the mistakes and index them. By this time it's usually to late to correct the problems. What comes next is a panic response as you realize your business website efforts, all the time and money you spent building up your website, just went down the drain.
We have seen a lot of businesses over the years that should have paid closer attention to who was doing their website migration and how the changes were going to be implemented just throw caution to the wind and let anyone do the migration. This is the first mistake which can have serious consequences for your business. Not addressing the problem properly and in a timely manner, is usually the second mistake.
Can a website migration cause other problems?
Yes,
Make sure to pay attention to the little things like desktop apps, local firewalls and internal DNS servers. These have a tendency to cause problems when doing the migration.
Even moving the website to a new hosting provider can cause headaches with local servers, computers and DNS caches. Two factor authentication can come into play as well, so keep a close eye on the different applications the business is using and make sure to do a full review of the company systems, no matter how small.
Do I Really Need A Migration Plan?
For anything larger than moving to a new hosting provider - yes. Each migration needs to be planned out ahead of time with some real thought put into it. You need to make sure everything is done right the first time, as there really are no second chances.
On-going monitoring and reviews are critical and should be done for several months after the migration to make sure everything is going as planned. Small adjustments are usually needed as well, to accommodate for the changes that were made.
Just when you think your in the clear, that's usually when the unexpected happens. Since Google is now over 94.6 percent of all searches, special attention must be made to make sure Google is happy and properly seeing and indexing the new change.
Can a migraiton be guaranteed?
No, not really, even with the best efforts of a qualified migration specialist, there can still be issues. Depending on the type of migration, some problems are just unavoidable but not unpredictable.
Hiring a professional who can anticipate potential problem areas before they arise, is a very valuable asset indeed. Most small businesses can't afford to have their online presence negatively affected for months or longer if a large mistakes are made.
Moving your company to a new domain
Migrating to a new business domain name can be quite a task as there are a lot of layers and moving parts to consider and get right. Moving to a new domain will mean a lot of DNS changes, email, security, branding, ad copy - and that is just the beginning.
When moving to a new domain, you really need to review all the aspects of your business that will be affected. If you have spent years building up your brand around your domain, changing it could cause real problems if not implemented correctly.
If you have a new business, it could be much easier to migrate to a new domain, however, you will still need to pay close attention to the details before making the move.
Getting a new email domain name
If your moving your email to a new domain, there are several way to make this transition easier. With email it makes sense to first add the new domain as an email alias. This will allow you to use your new domain right away without having to make any large moves. You can then slowly move the new domain to be your primary domain while you keep the old domain around for a while as your clients get used to the new email address
This slow transition works well as there are no real large changes to cause any real problems. Just be sure to keep your old domain around for a while so you don't lose any of your old customers that may still have your old email address in their contacts list.
We recommend keeping the original domain around for about a year. It's a good idea as well to review printers and other systems that may be still using the old address and get them updated. You don't want to have any surprises when you do eventually turn off the old domain.
Migrating to a new hosting provider
Migrating your business website to a new hosting provider can be a little more complicated than some people think. A lot of the same problems can arise that happen with larger migrations during the website move. Proper attention needs to be made when moving over the website and updating the DNS, database and potentially security and hosting features.
If done correctly, the website will experience no downtime and just gracefully transition from the old hosting provider to the new hosting provider. There are certain tricks of the trade that allow our staff here at Verity Hosting to move a site at any time of the day with no downtime.
With that said, we still prefer to move our business client sites after hours to help avoid any changes during normal business hours. With larger migrations, we may schedule these on the weekends to give proper propagation time and allow for the systems and computers around the internet to catch up and clear their cache.
Moving To A New Website
Migrating to a new website is a little more complicated due to problems that can arise with domain aliases, SSL certs, 301 page redirects, sitemap.xml updates, Google webmaster tools adjustments and indexing error fixes. Not to mention checking to make sure meta tags have been added or updates performed, and that the new site has been properly optimized, updated and secured.
We see developers on a regular basis that do not know how to properly move their business clients to the new website. Proper migration is now longer an afterthought, it's required, nowadays to make sure your site doesn't take a performance hit and become downgraded by Google. It should be noted that Google is really the only game in town and the one you need to pay special attention to. Make Google happy and your business site will reap the rewards.
When doing the migration, especially to a new website design or a new domain name, it's a good idea to make note of this with a customer newsletter, a mention on social media, change to your email signature or a press release. Use this event to keep your clients informed about your new look, name or services.
What is platform migration?
Platform migration is when you move from one type of system or code to another. An example would be moving from a Wix.com site to a WordPress website or a custom Bootstrap website. This type of migration is more involved and usually has additional costs, as the website will need to be rebuilt on the new platform.
It's a good idea to review the costs with the new provider as you may save money in the long run if you are moving to a new platform that requires less maintenance and quicker updates. Verity Hosting offers significantly reduced migration costs when moving to a higher end asp.net Bootstrap environment.
Platform migration is the most involved as it requires a complete rebuild, and therefore all new code creation. With that said, there are some big advantages when moving off an outdated system or from a platform that is no longer suitable for your business.
Reasons for moving include:
Upgrading to a more secure platform
Moving from an outdated platform
Moving to a mobile friendly design
If your current website is not mobile friendly, then we highly suggest you move to one that is as quickly as possible. Google no longer considers websites that are not mobile friendly to be anything to pay attention to. Which means your website has been significantly downgraded. We have seen websites drop double digits and more in their Google ranking. The good new is that you can usually gain a lot of your ranking back once you move to a new mobile friendly platform.
Adding an SSL Certificate?
Adding an SSL certificate to your business website is truly a requirement as the new browser updates are forcing SSL connections. If your business website is not SSL ready, your site will show as broken to your potential clients and you will lose search engine ranking. This is not something you want to have happen, especially since it's an easy fix.
Adding an SSL certificate to your website can require a little bit of coding, but usually is a fairly easy migration. Verity hosting includes a business grade SSL certificate with all their hosting packages to make sure our clients our protected from the start. There are different levels of SSL certificates and some are better than others with the higher end certificates being compatible with more browsers and less prone to errors. This is why Verity Hosting uses higher end business grade SSL certificates for our clients' websites.
In Conclusion:
It's always a good idea to seek out a professional to help you with the migration no matter what type it is. Here at Verity Hosting we have been migrating business websites for over 18 years. Some of the migration services we offer may already be included with our hosting package. If you would like to find out more on how we can help with your migration give us a call you will be glad you did.
Image Credits
All photos used have been curated by Verity staff
The editorial staff at VerityHosting is a team of hosting experts with over 25 years of experience managing, monitoring, and maintaining hosting services for small businesses.