Does Responding To Google Reviews Help SEO?
Posted on December 20, 2022 | By Verity Hosting Business Post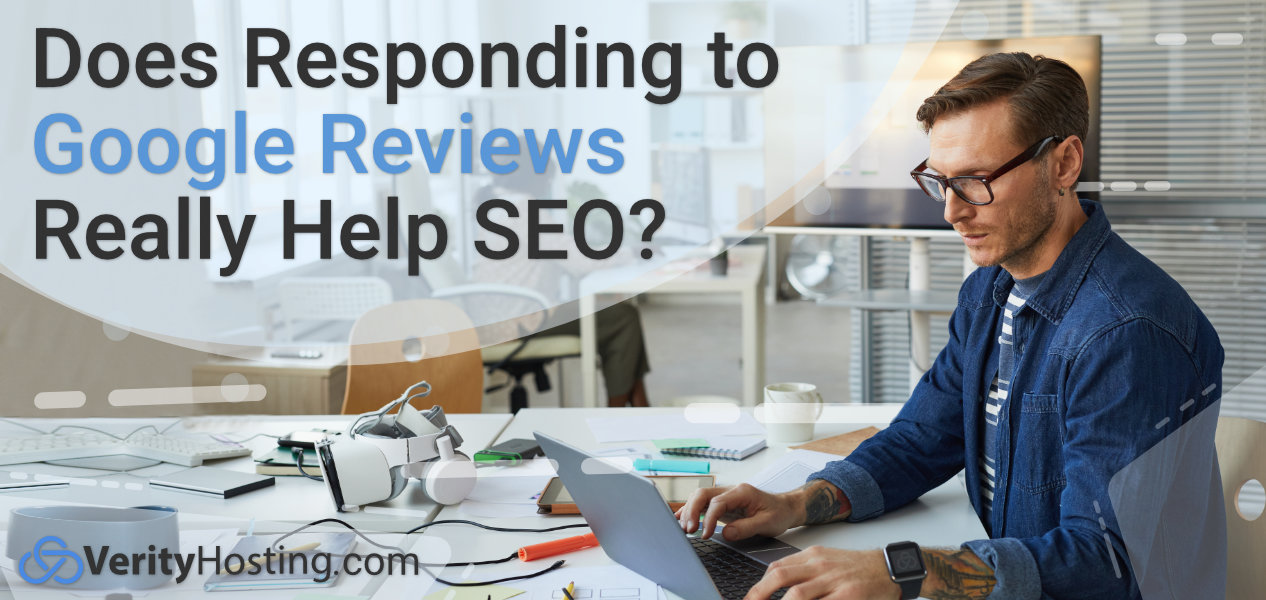 Does Responding To Google Reviews Help SEO?
The short answer is a resounding YES!
Responding to Google Reviews will help your business SEO.
Google staff has said that managing and responding to customer reviews is an excellent way to improve your local ranking on their platform.
Every business should see responding to reviews as an (ESSENTIAL TASK.)
Customers tend to trust online reviews and build their initial impressions of your business from what they read.
Responding quickly and well to online reviews shows customers that you are willing to fix any problems experienced and also maintain a good relationship with your customers.
50% of customers expect to receive a response from the business after leaving a review.
Research has also shown that companies should experience around a (16% boost) on average in customer advocacy after dealing correctly with negative reviews.
More than 90% of customers read reviews before making a purchasing decision.
The main reason people read reviews is to see the real experiences of other customers and decide whether the product/service is worth getting.
Responding to both positive and negative reviews will help your business. But how does it help your Search Engine Optimization specifically?
Quick Review "What is SEO?"
SEO stands for (Search Engine Optimization.)
Although it is an essential business marketing strategy, it is a pretty easy concept to understand.
Let me explain:
When you search for something online, you should get a list of results beneath your query.
This list of results is ranked according to what the Search Engine "BELIEVES" is most relevant to your search.
Businesses use Search Engine Optimization to help their websites appear in a higher position on the page and this list of results.
A higher listing will lead to more visibility, website traffic, and more people returning to your website.
Improving your SEO and appearing in a higher position on a Google Search page is very important, especially for local businesses.
It can stand as the lone difference between you being a relatively unnoticed business and being the go-to business in your region.
The Local SEO Ranking Factors
There's a lot of different types of data that can be collected with web analytics, but here are some of the most important things you can track:
Relevance: This refers to how closely the search query matches the information online about your business. The question to ask here is how relevant is the search term to your business. The best way to ensure your business stays relevant is by having a very strong Google Business Profile and relevant information.
Proximity: This is one of the most significant factors defining the local algorithm for your business. It uses the customer's location to select a business that best matches their search query. The closer the customer is to a local business, the higher the likelihood that the business will show up in the local listing. The customer's location is the only factor that businesses are unable to influence. That is, you cannot change where customers live in relation to your business location.
Prominence: This refers to the popularity of a business. And most people now express themselves by talking about their experience online, whether positive or not. And Google bots do the work of reading through customer feedback to determine whether a business is worth recommending.
With all these factors, research still shows that Google reviews are essential to organic search ranking. With over a hundred different factors affecting Google rankings, customer reviews can be one of the most important.
Remember to Keep Your Google Profile up to Date
Keeping your profile updated will help boost your visibility and help ensure your business shows up at the top of the listing in relevant local searches. Google recommends that you review your Google Business Profile regularly, and it should be Engaging, Complete, and Accurate.
To achieve this, Google suggests that you:
1. Fill out all the required Business Profile Information.
2. Verify your locations.
3. Keep your business hours accurate.
4. And, of course, manage and respond to your online reviews.
Responding to your customer's reviews helps show that you value them and their feedback.
Putting in extra effort to manage and respond to reviews helps Google and prospective customers learn more about your business. It also helps the search engine better match relevant local searches with your business's profile.
Why are Google reviews so important?
Customers search businesses online before making any in-store purchases. A high percentage of in-store shoppers said they searched for the nearest store and other locations, directions, open hours, and contact information. All this data can easily be gotten from a well-setup Google Business Profile. So making sure your Google business information is correct is an excellent idea.
Based on statistics in 2021, the use of Google by customers in evaluating local businesses increased by almost 20%.People use and compare reviews and rankings to make better buying decisions. The percentage of people who never read reviews has dropped from 13% to about 2% in just two years.So 98% of people "at least take a glance" at online reviews before buying from local businesses.
And just like other modern businesses, Google prioritizes satisfying its customers' needs. So, if people continue to see other customers' reviews as important, Google will keep using this as an essential factor in determining your search engine ranking. This is how a search engine like Google ensures that its results remain relevant and satisfactory for all potential customers.
How much Impact do Reviews Actually Have on SEO?
1) One of the fundamental principles of SEO is having detailed product descriptions on each of your website pages. Online reviews help in ensuring the types of products or services you sell. Google reviews help to fill in the information gaps that your website content might not have originally contained.
Google utilizes your customer review volume, positive reviews, and location when recommending a business to the end user. Having good positive customer reviews is a compelling indication that you are serving the customer's needs. Which in turn can help boost your overall SEO efforts.
2) Positive customer reviews help drive more traffic to your website. People that search the web for products place reviews at a premium. Over 50% of customers will only use a business that has a rating of 4 stars or higher. Most customers find it easier to trust a website with a good star rating and several detailed reviews. This can give Google the view that your website is authoritative and deserves a higher search ranking.
3) Local reviews enhance reliability. It is not just customers that read the reviews. Google also trusts what other people say about your business. You can call your own business the best at what you do, but when other people that have dealt with your business say this, it counts much more in the eyes of Google. This kind of social proof can result in higher visibility.
Why does responding to Google reviews boost SEO?
Now that you know that putting in some extra effort to respond to reviews can help your business get better SEO results, it would be great to understand why Google cares about the reviews.
1) Trust is built through review responses. You can quickly build trust with both your audience and Google just by responding to online reviews.
2) When a customer writes an online review about your business, it lets Google know that real people have interacted with your business. Your responses further prove to Google that your business is still active.
3) Engagement signals boost Google search rankings. The degree to which people engage with your Google Business profile may affect your search rankings. This includes a range of actions like requesting directions, asking questions, visiting your website, and reading reviews.
Having a load of reviews to go through will increase the amount of time the searcher spends on your page. So descriptive business responses help to increase the amount of time that a user is engaged.
Responding to Online Reviews
Not only is it essential that you respond to the reviews of your customers, but it is also essential that you respond in the right way. Here is how to respond to both positive and negative reviews.
How to respond to a negative review
Responding to negative reviews is super important for several reasons. Not only is it vital that you acknowledge dissatisfied customers, but acknowledging them in itself promotes your business to other customers reading your reviews. What you want to do through your response is specifically acknowledge the pain point of the customer and then try to offer a solution.
Even though the review might be negative and possibly paints your business in a bad light, it is important that you still express that you value them as a customer and appreciate their feedback, no matter how harsh the review might be.
It is a good idea not to reply with any negativity back to the reviewer. That is, you should respond as positively as you can. And if you believe that the review is unfair, you may want to try and handle the issue privately. This could allow the customer to remove or fix the bad review.
A good example of how to respond to a negative review is:
"Hello [First name],
We are truly sorry to hear that you did not enjoy your product/service. Kindly contact us at [contact information], and we would be happy to look into this for you and find a solution. We place a high value on all our customers and always look to provide the best service possible. Thank you for this review, as we use the feedback to help us improve. [Business/Respondent name]."
How to Respond to a Positive Review
You might not feel like you need to respond to a positive review because the customer is satisfied with their purchase. However, replying to positive reviews shows that you appreciate your customer and also acknowledge the time they took to leave you a review.
Positive reviews are compliments, and it is a good idea for you to acknowledge the compliments you and your business receive.
For positive reviews, it is essential that you thank the customer for choosing your business. You can maintain a good relationship and help promote a new sale by sending them a discount.
A good example of how to respond to a positive review is:
"Hello [First name],
Thank you for choosing us and being a valued customer of business/organization. We are delighted that you were pleased with your product/service and would like to thank you for the kind review.
We look forward to serving you again very soon. [Business/Respondent name]."
On a Final Note
Local businesses that are serious about generating more traffic from searches must look into boosting their local rankings.
A lot of companies improve their websites, social media pages, and listings to boost visibility, but they look entirely past online reviews.
Research continues to highlight the significant effect that online reviews have on SEO, and even Google has admitted to the connection between the two. This comes as no surprise as Google is working to present only the best businesses to their users, and reviews are an excellent way for them to determine which businesses should be promoted.
Conclusion:
Our research shows that responding to all reviews will help drive more traffic to your website and can help boost your Google ranking as well. Responding to all customer reviews is a cost-effective and highly efficient way for you to increase your business's search rankings. It shows Google and other online customers that you are still in business and making new sales.
Image Credits
All photos used have been curated by Verity staff
The editorial staff at VerityHosting is a team of hosting experts with over 25 years of experience managing, monitoring, and maintaining hosting services for small businesses.