What is Fully Managed Web Hosting
Posted on April 04, 2023 | By Verity Hosting Business Post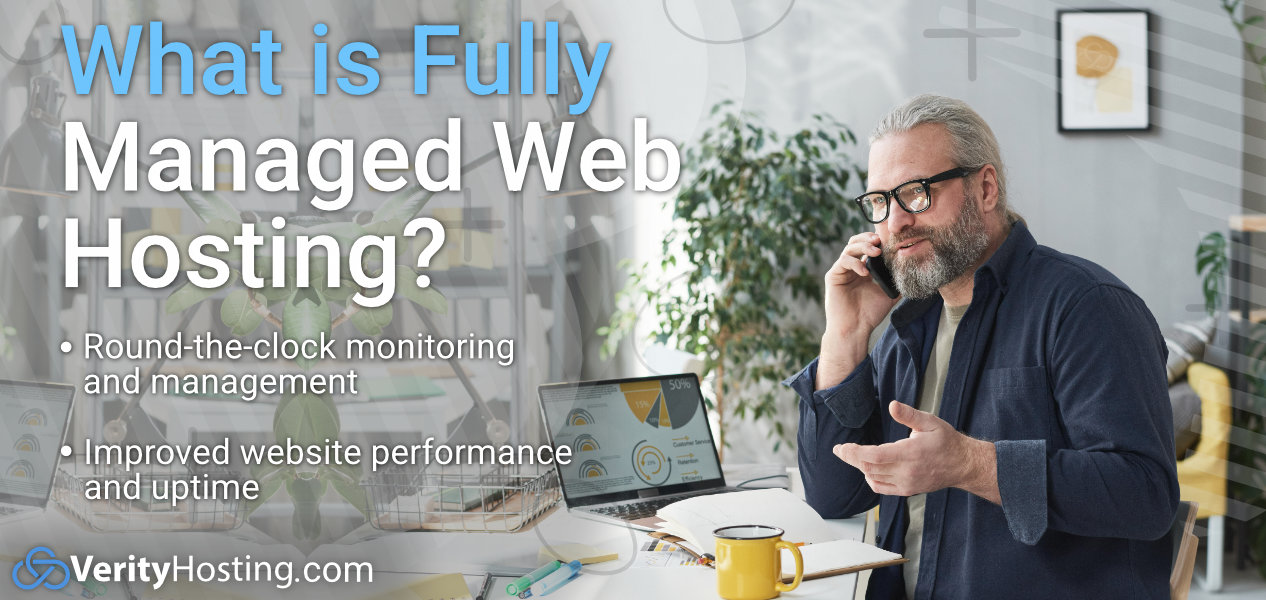 What is fully Managed Web Hosting
Fully managed web hosting is where the hosting provider takes care of the hosting services and the website for you.
Fully managed web hosting is an invaluable service for anyone who would like to push the responsibility back to the hosting provider for everything related to the website.
With this type of hosting, the provider takes care of hosting maintenance, and security updates, including part or all of the website updates and changes.
With Fully Managed Web Hosting, the website owner can focus on running their business instead of worrying about technical issues.
Choosing the right provider that offers quality services and next-level support is essential to get the most out of fully managed web hosting.
In this article, we will explore what makes fully managed web hosting so valuable, discuss the features to look for in a hosting plan and share tips on finding a reliable provider.
Fully Managed Web Hosting Explained
Fully Managed Web Hosting is a type of hosting where the provider handles all of the technical aspects of managing, monitoring, and maintaining your hosting account and website.
This usually includes website security updates, content updates, 24/7 uptime monitoring, speed testing, and some parts of SEO search engine optimization.
Fully managed web hosting aims to take away all of the time-consuming technical tasks associated with running a website so that you can focus on other areas, such as content creation or marketing.
One key difference between fully managed and unmanaged web hosting is that you are responsible for managing your own hosting and website with an unmanaged solution. This could include setting up servers, testing applications before they go live, and ensuring any patches are applied in order to increase security.
However, with a fully managed solution, these duties are delegated to the hosting company, which will take care of everything from setup to maintenance.
Benefits of Fully Managed Web Hosting
Complete Technical Oversight: The web host will carry out all necessary tasks, such as software updates, security monitoring, and server configuration.
Increased Website Performance: As the servers are maintained by a professional team, website performance is optimized due to regular optimization activities like cache optimization, etc.
Peace of Mind: As all responsibility lies with the web host; customers can rest assured knowing that their websites are in safe hands without having to worry about any potential issues or problems that may arise from poor server management or configuration.
Better Uptime: With full management in place, downtime is minimized due to proactive measures taken by the hosting provider, such as patching vulnerabilities before they can be exploited.
Cost-Effectiveness: Fully managed solutions often come with lower upfront costs than unmanaged solutions, as customers do not need additional help or software licenses to set up their hosting and website.
Features of Fully Managed Web Hosting
1. Server Setup and Configuration:
Fully managed web hosting includes server setup and configuration to ensure all applications are properly installed, configured, and maintained.
The host will set up the server environment with all the necessary settings. Setup usually includes configuring system resources, databases, hosting application software, monitoring tools, security protocols, etc. This ensures maximum efficiency of the website and its performance.
2. Security Management and Monitoring:
Security is a critical aspect when it comes to web hosting. With fully managed web hosting services, the host offers ongoing security management and monitoring to ensure your website is safe from malicious attacks or unauthorized access.
This includes implementing various security measures such as firewalls to protect against online threats like viruses and malware. In addition, they also provide regular scans to detect any vulnerabilities in the system and fix them promptly before attackers can exploit them.
3. Website Backup and Recovery:
Fully managed web hosting services also include website backup and recovery services for protecting your data in case of an emergency.
This includes regularly backing up the website files on a secure server so that it can be recovered quickly in case anything goes wrong with your original files.
The host will also be able to help you recover lost information or corrupted data in case of a breach or other unfortunate incident causing data loss.
4. Website Migration Assistance:
Moving websites from one hosting provider to another can be complicated and time-consuming if done manually.
Fully managed web hosting providers offer assistance with migrations by automating many of the steps involved in transferring websites between hosts.
They help manage DNS records during migrations as well as provide guidance on how to move files without disruptions or outages for users of your site.
5. Technical Support and Customer Service:
Part of fully managed web hosting is providing excellent technical support for customers who have questions about their service or need assistance with certain issues related to their websites or hosted applications.
The best providers have knowledgeable staff trained on all aspects of their platform. They are available via email or phone to answer questions quickly and accurately whenever customers need them.
6. Automated Software Updates:
Keeping software up-to-date is important for ensuring optimal performance and security for websites hosted on shared servers.
However, manually updating individual components every single time can become tedious very quickly, particularly when multiple applications are running in parallel in the same environment.
With fully managed web hosting plans, automated software updates come standard, eliminating this manual process while helping increase reliability through proper maintenance of all applications used on site at all times - no matter how small these may be.
7. Performance Optimization:
Fully managed web hosting plans come packed with performance optimization features such as caching technologies (e.g., Redis).
Caching helps reduce page load times, and proactive uptime monitoring ensures issues are identified early before they affect user experience.
Advanced scalability options allow sites to grow as needed without experiencing slowdowns due to a lack of server resources.
All these features make it easier for businesses to keep growing without worrying about website speed or availability diminishing over time due to their increased popularity (or lack thereof).
Types of Fully Managed Web Hosting
1. Shared Hosting
Shared hosting is a type of web hosting service where multiple websites are hosted on the same web server.
This type of hosting offers an affordable solution for businesses, as sharing resources with other websites can help to reduce server costs. With shared hosting, all users have access to the same server resources, which include CPU, memory, and storage space.
Each website that is hosted on the same server will have an allotted number of resources available, so it's important to check that the resources you need are available when selecting shared hosting.
All websites must also adhere to certain restrictions, such as having code written in a specific language, allowing only certain types of files, and not exceeding a certain amount of data transfer.
One advantage of choosing shared hosting is that it allows you to easily upgrade your service plan as your business grows and needs more resources.
2. Managed VPS Hosting
Virtual Private Server (VPS) hosting is a type of managed web hosting that provides users with dedicated resources on a single physical server.
By using virtualization technology, VPS hosting can partition off a single physical server into multiple virtual servers, each with its own operating system and resources, allowing for more flexibility when compared to traditional shared hosting plans.
With VPS hosting, companies benefit from increased speed and scalability, improved security, and the ability to run specialized scripts or software applications.
Additionally, this type of hosting allows for the customization of applications and software that may not be available on shared hosting plans.
Companies that can benefit from VPS hosting include businesses who require customized applications or large-scale websites that need higher performance and reliability than what is offered by shared hosting plans.
3. Managed Dedicated Hosting
Dedicated hosting is a type of fully managed web hosting in which the customer rents an entire server from the hosting provider. This type of hosting is typically used by organizations with large websites that require advanced features and performance.
With Dedicated hosting, customers have full control over their server, including its configuration and maintenance. The host provides all the necessary software, hardware, updates, and security patches needed to keep the server running smoothly.
Customers can customize their server as needed or upgrade it as their website grows to ensure optimal performance. Additionally, many hosts offer additional management services, such as system monitoring and backups, at an additional cost.
4. Managed Cloud Hosting
Cloud hosting is a type of web hosting that utilizes multiple connected servers. It distributes the load across many different physical resources, which makes it more reliable and secure than traditional hosting solutions.
The individual servers in the cloud are managed by experts who constantly monitor and update systems to ensure maximum performance.
Cloud hosting also offers scalability, meaning that businesses can easily add or remove capacity to suit their changing needs. Cloud hosting is highly flexible, allowing for quick deployment of new applications and services with minimal effort.
It also provides improved redundancy, as if one server fails, another can take over without disrupting service. All of this adds up to an efficient, reliable, and cost-effective way for businesses to host their websites.
How to Choose the Right Provider
Factors to consider when choosing a provider:
Uptime guarantee: Look for a provider that offers at least an uptime of 99.9%. This will ensure that your website is available to visitors and customers all the time.
Pricing: Consider the cost of hosting services such as bandwidth, disk space, and other features you may need. Compare different providers to get the best value for money.
Support: Ensure that customer support is available 24/7 through methods such as email, chat, or phone. Check if they offer proactive maintenance services and how long it takes them to respond to customer queries.
Security: Make sure the chosen provider offers high-end security measures such as firewalls and regular backups to protect your data. They should also have measures in place to protect against malicious attacks, such as DDoS protection.
Scalability: Choose a provider that can easily scale up or down depending on your needs without any disruption in service. This is important if you're expecting sudden spikes in traffic or website usage.
Infrastructure & Platforms: Ensure that the provider has access to top-notch infrastructure and platforms such as Cloud, Linux, Windows, etc., so they can easily manage and update your website whenever needed.
Researching and Comparing Providers
To choose the right fully managed web hosting provider, it is important to do some research and comparison of potential providers.
Some key factors to consider when deciding to include analysis of a provider's uptime record, customer service accessibility and the type of support they offer.
It is important to make sure that a hosting provider's uptime record is consistent across all its services. Uptime refers to the percentage of time that a server remains active and available for use. Furthermore, website speed should be tested with real-time monitoring tools in order to be certain that pages are loading quickly and efficiently.
Additionally, it is vital to check out customer service accessibility before signing up with any web hosting provider - their responsiveness should be timely and helpful.
Conclusion
Fully managed web hosting is a service offered by web hosting companies that provide customers with high-end technical support, server maintenance, and enhanced security measures, among other benefits.
With fully managed web hosting, businesses can be sure that their website's uptime and performance are taken care of, and that their data is secure at all times. This type of service gives customers peace of mind knowing that their web servers are in good hands.
Image Credits
All photos used have been curated by Verity staff
The editorial staff at VerityHosting is a team of hosting experts with over 25 years of experience managing, monitoring, and maintaining hosting services for small businesses.