How Potential Customers Find Business Websites
Posted on January 06, 2023 | By Verity Hosting Business Post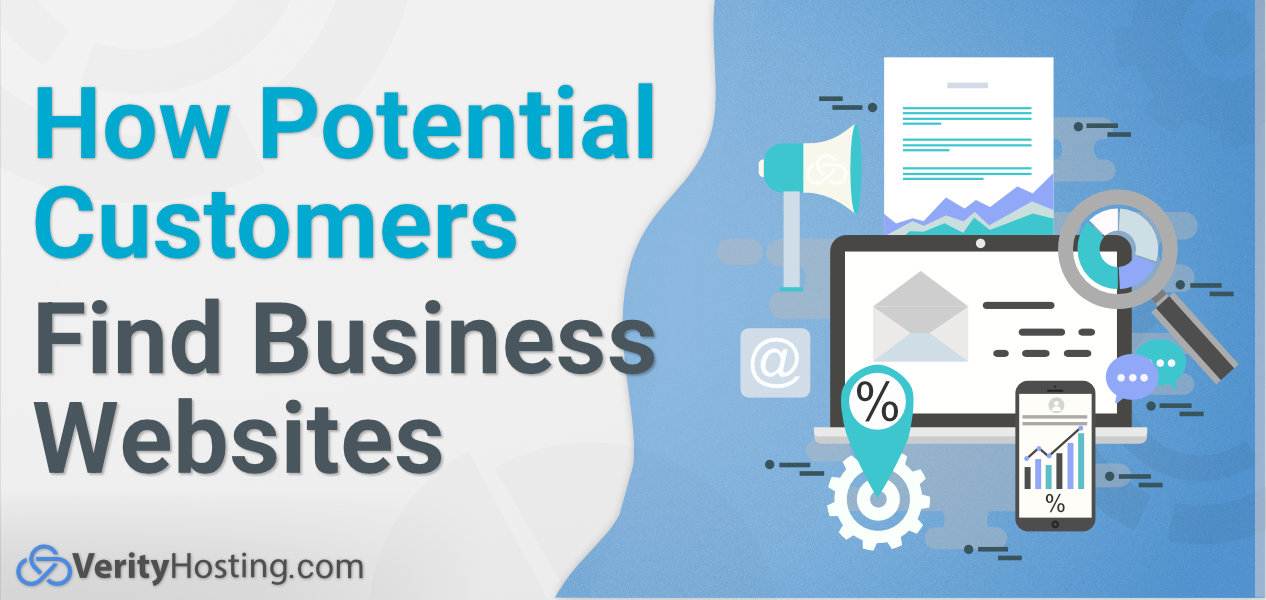 Learn why promoting your website is key to your online success.
In this article, we'll discuss how most customers find business websites and seven great ways you can promote your small business so more customers can find your site.
Let's get started.
How Do Most Customers Find Business Websites?
1. Search Engines
If I had to pick one place to focus my attention on for my business, it would be through search engines. More customers discover business websites via search engines using Google, Yahoo, and Bing. Like millions of other people, you likely use Google as well. Around 46% of google searches are done to find local businesses.
Google is the preferred search engine. Almost 94% of all searches are done on Google. And if you are looking for a local store or restaurant, then Google local is likely the place you will find the information.
2. Social Media Platforms
Online market research shows that up to 54% of social media users utilize their social media platforms to interact with a particular brand.
The advantage of businesses promoting their products and services on social media is that they can reach even more customers with paid advertising and social discussion.
When businesses create good engaging, educational, and entertaining content, it will get shared with other users. This allows customers to find a business that would not have been generally found through a standard internet search.
When businesses share links to their most recent blog post or article on Facebook, Twitter, and LinkedIn, it encourages others to do the same.
Businesses can make sharing their material simple for users by adding social sharing buttons to their websites, blog posts, and email marketing campaigns.
3. Influencers
An influencer is someone who is known to be an expert in a field or has a significate influence that can affect the purchasing decisions of their audience.
Influencers can also have a significant impact when promoting content for another business. Working with Influencers can help expand the business's brand and social view. Working with an influencer not only gives a company more credibility in the customer's eyes but also more credibility with the search engines.
4. Directories
Business directory sites are another place clients search for products and services.
These websites, which essentially serve as a local "search directory" for businesses in your region, are similar to Yelp and Yellowpages.
There are many business directories; however, one of the most popular is Google My Business.
According to our research, most small businesses have yet to take advantage of their free Google My Business (GMB) page, and only 7% of the companies that have their information in business directories are accurate.
Our research shows that if the information in a business directory is false, customers will have less trust in the business.
In basic terms,

Make sure your business is listed in as many web directories as possible and take advantage of the free Google My Business listing.
Also, ensure that all listings have the most accurate and recent information about your company. Check your listing pages frequently for negative comments or false information.
Some directories may have a comment section. If they do, make sure you respond to any reviews or comments left on the platform.
Respond to customer reviews, whether positive or negative.
Responding to reviews shows your customers that your business is running well and that you care about what your customers have to say.
5. Online Ads
People find businesses through paid ads, regular search ads on social media, or even display ads on other websites.
We show that when using Google, Yahoo, Bing, etc., many people today skip over the top search ads to get to the organic listings below. However, having a well-placed ad presence at the top is still a good idea, as people will see the business in both places, increasing credibility.
Paid advertising can target particular demographics, interests, and even geographic areas. This makes it an effective way to reach new customers.
Because people spend so much time scrolling through their social media, commenting, liking, and sharing, social media, is an effective way for businesses with well-designed ads to reach a large audience. This includes Facebook ads, sponsored tweets, and ads on YouTube videos.
6. Email Marketing
Today, there are three times as many email accounts as Facebook and Twitter accounts combined, and email has a higher click-through rate as well.
Customers are much more likely to see emails than social media, which is a significant advantage in favor of email marketing over social media or search marketing.
When done well, email marketing is an effective sales driver and should be set as one of the primary marketing.
Email marketing, however, needs to be done correctly, as you need to avoid sending out spam. Therefore creating your email customer list can take some time as customers need to opt-in to your email campaign.
7. Customer Reviews
There is no doubt that online reviews have a significant impact on how many people choose a company's products or services.
Up to 88% of individuals consult reviews before making a purchase. And up to 92% of customers have followed a recommendation from a friend or family member.
So, you should absolutely focus on building a solid reputation through online reviews. Some negative reviews are expected; however, responding to all reviews, positive or negative, is a good idea.
Conclusion
Customers find businesses and their associated websites through search engines, social media, business listings, video ads, and influencers.
Customers expect a business to have a website. If they don't, they will lose credibility. With the knowledge in this article, I hope we help you expand your business knowledge.
Image Credits
All photos used have been curated by Verity staff
The editorial staff at VerityHosting is a team of hosting experts with over 25 years of experience managing, monitoring, and maintaining hosting services for small businesses.