Mistakes Small Business Owners Make When Using SEO
Posted on January 27, 2023 | By Verity Hosting Business Post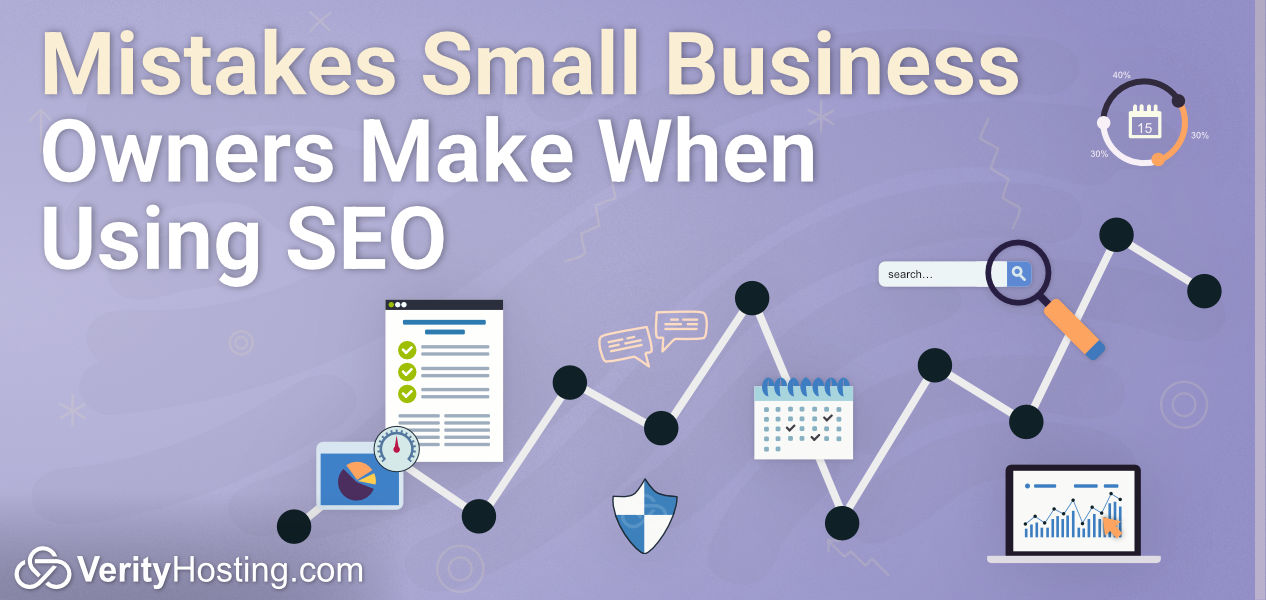 Mistakes Small Business Owners Make When Using SEO
Making search engine optimization mistakes as a small business owner can be costly and could take your small business months to recover.
It's best to try and avoid these mistakes before the search engines index them.
In this article, we'll look into the most common SEO mistakes small business owners make and show you how to avoid them. So, whether you're new to SEO or a seasoned pro, keep reading to learn how to avoid the most common mistakes and make the most of your SEO efforts.
One of the best ways to increase your online visibility and drive more traffic and sales to your website is Search Engine Optimization (SEO). However, many small business owners make common mistakes when improving their SEO, leading to frustration and wasted time and money.
What is SEO? "Search engine optimization" is the process of optimizing your website to rank higher in search engine results pages (SERPs) for relevant keywords.
If you are new to search engine optimization, going through the Google SEO Starter Guide is a great place to start. This guide was made for everyone, from SEO beginners to seasoned professionals.
1. First Mistake SEO Optimization Without a Plan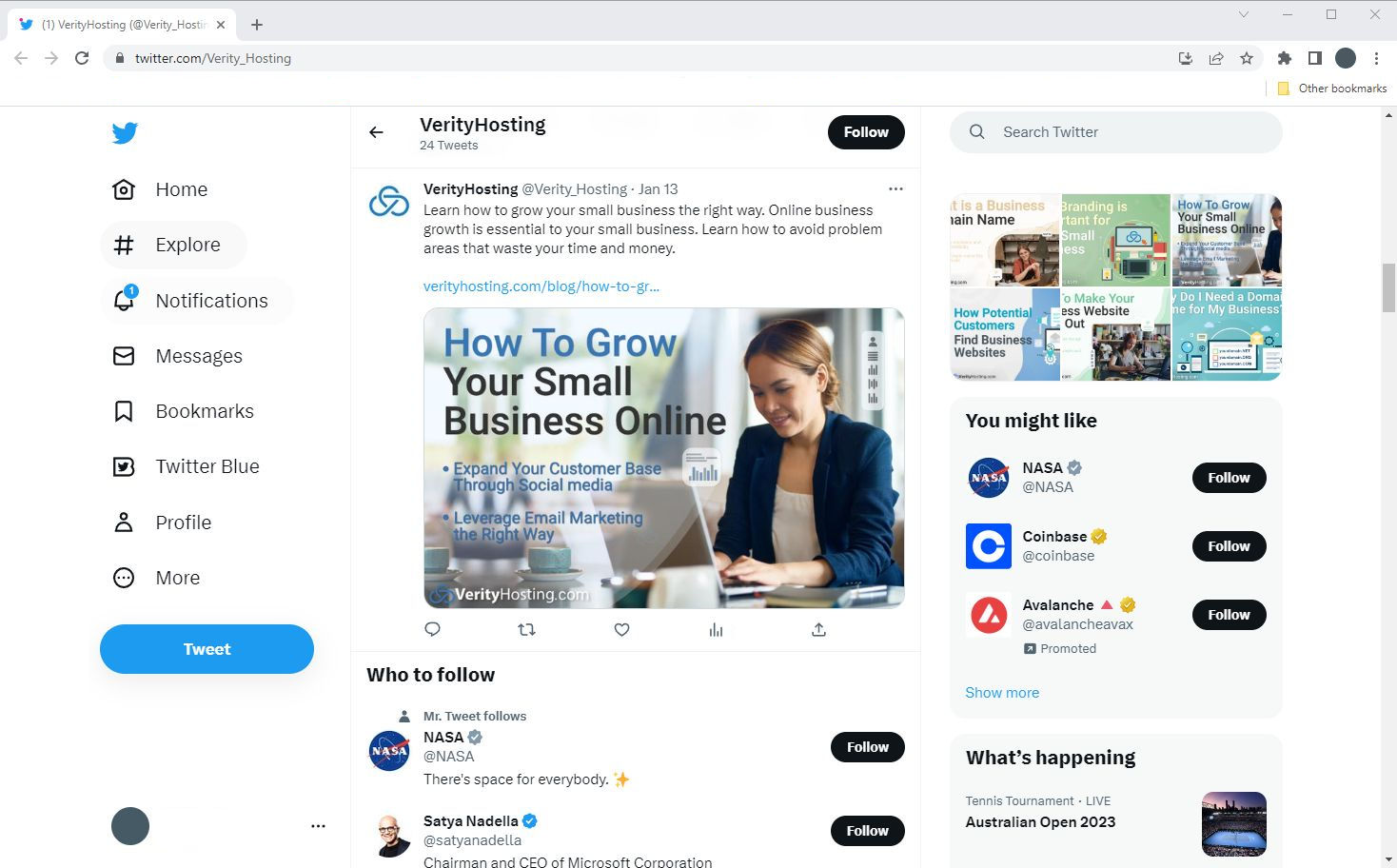 Going into SEO without a plan is a common mistake that small business owners make. It's difficult to set clear goals and measure your overall progress without a clear plan in place for what you are trying to accomplish.
To fix this issue, set up an easy-to-follow plan that outlines your goals. The plan should include your target audience, timeline, and any other details that you think will need to be done to accomplish your tasks.
Here is a quick list to get started:
Review Google SEO Guide

Do Keyword Research

Review Top Competitors for ideas

Setup Google Webmaster Tools Account

Setup Google Analytics Account
The goal is to make a complete list of everything that need to be done. This should include as much detail as possible to help avoid any mistakes.
Regularly reviewing and adjusting your plan as needed can help ensure that the SEO efforts are on track and achieving your desired results.
2. Thinking SEO is Free or Cheap
Another common mistake small business owners make is thinking that SEO is free or cheap. While it's true that there are some free SEO tools and resources available, it's important to remember that SEO is a long-term investment that requires time, effort, and resources.
In order to see real results, you will likely need to invest in professional SEO help, whether hiring an SEO specialist or agency or purchasing SEO software.
Creating and implementing a comprehensive SEO strategy often requires a significant investment of time and money.
Hiring an experienced SEO professional or agency can get expensive. Additionally, SEO is an ever-changing field, so keeping up with the latest trends and best practices takes time and effort.
There is no guarantee that your website will rank on top for your target keyword phrases, even with the best SEO practices. This is due to complex algorithms and other factors determining your final position.
It is important that small business owners have realistic expectations. SEO is an ongoing process that requires a long-term commitment before seeing any significant results.
3. Taking Shortcuts With Unethical SEO
There are several types of SEO practices, and some are frowned upon. Most search engines today look for these unethical SEO methods and will downgrade or even ban websites that use them. It is best to avoid these types of practices as they will eventually cause your website harm.
Some of these tactics are not only ineffective, but they can also get your website penalized by Google.
Unethical SEO practices, also known as "black hat" SEO, are methods used to artificially boost a website's search engine rankings. These practices can include buying backlinks, keyword stuffing, and cloaking. These practices may help a website achieve higher rankings in the short term but can also lead to long-term penalties or worse.
Penalties can include lower search engine rankings, reduced visibility, and even removal from search engine results entirely. This can have a devastating impact on a small business's online presence and bottom line.
Small business owners should avoid shortcuts and only use ethical SEO practices. This can include creating high-quality content, building backlinks naturally, and focusing on user experience. Additionally, it's essential to stay up-to-date with the latest SEO best practices and guidelines set by search engines like Google.
4. Building Unnatural Links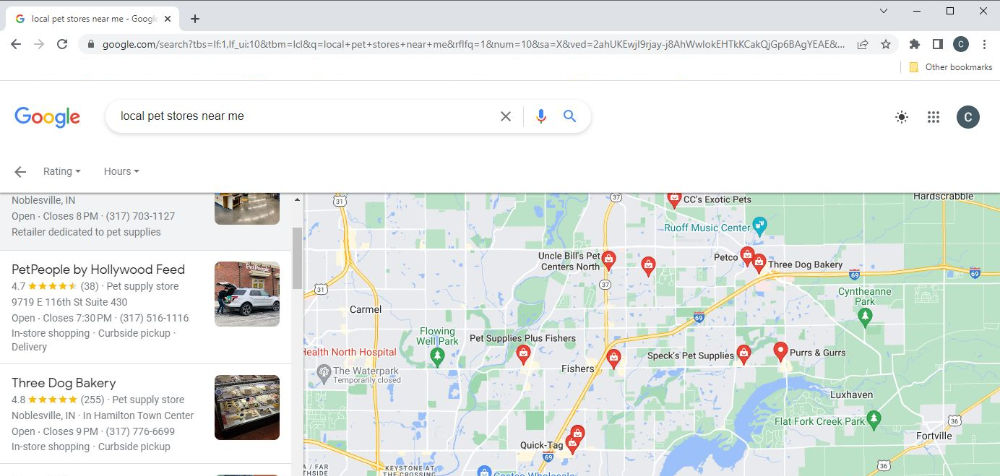 Link building is an essential part of SEO, but it's important to remember that not all links are created equal. Some small business owners make the mistake of buying links or participating in link schemes, which can harm your website's search engine rankings. Instead, focus on building high-quality, natural links through content marketing, social media, and networking.
Building these types of unnatural links can, in the short term, boost a website's search engine ranking and possible visibility. However, it can also lead to penalties and your website being downgraded.
Search engines like Google have programs that look for unnatural link-building practices.
If caught using these practices, the penalties can include lower search engine rankings, reduced visibility, and even removal from search engine results entirely.
It is best to build natural, high-quality links through legitimate methods such as creating valuable content, engaging in online communities, and guest blogging.
As you build good quality links to your website, it's important to keep track of the links and remove or disavow any unnatural links pointing to the website. You can remove these links through your Google Webmaster Tools account.
5. Overusing Keywords
Once small businesses have identified the right keywords, they sometimes make the mistake of overusing them in an effort to improve search engine rankings. However, this practice, known as keyword stuffing, can actually harm your rankings and make your website look spammy to your customers.
Search engines are much more sophisticated today, with algorithms that look for keyword phrases and associated keywords. This allows them to read a more natural text and understand what the website is about.
So it's a good idea to avoid keyword stuffing or unnatural use of keyword phrases and just write naturally.
6. Sending More Traffic to a Poorly Designed Website
Small business owners often think driving more website traffic automatically leads to more sales and revenue. However, suppose your website is poorly designed, hard to navigate, or difficult to use. In that case, all the traffic in the world won't help you convert visitors into customers.
Make sure your website is user-friendly, mobile-friendly, and easy to navigate before focusing on driving more traffic.
Regularly track and analyze your SEO results using Google Analytics and Webmaster Tools.
That is its best to work on your website's look and function while you are doing SEO to help drive more traffic. This will allow you to prepare for more traffic and have a better return on investment ROI when you increase your website traffic.
7. Ranking on The First Page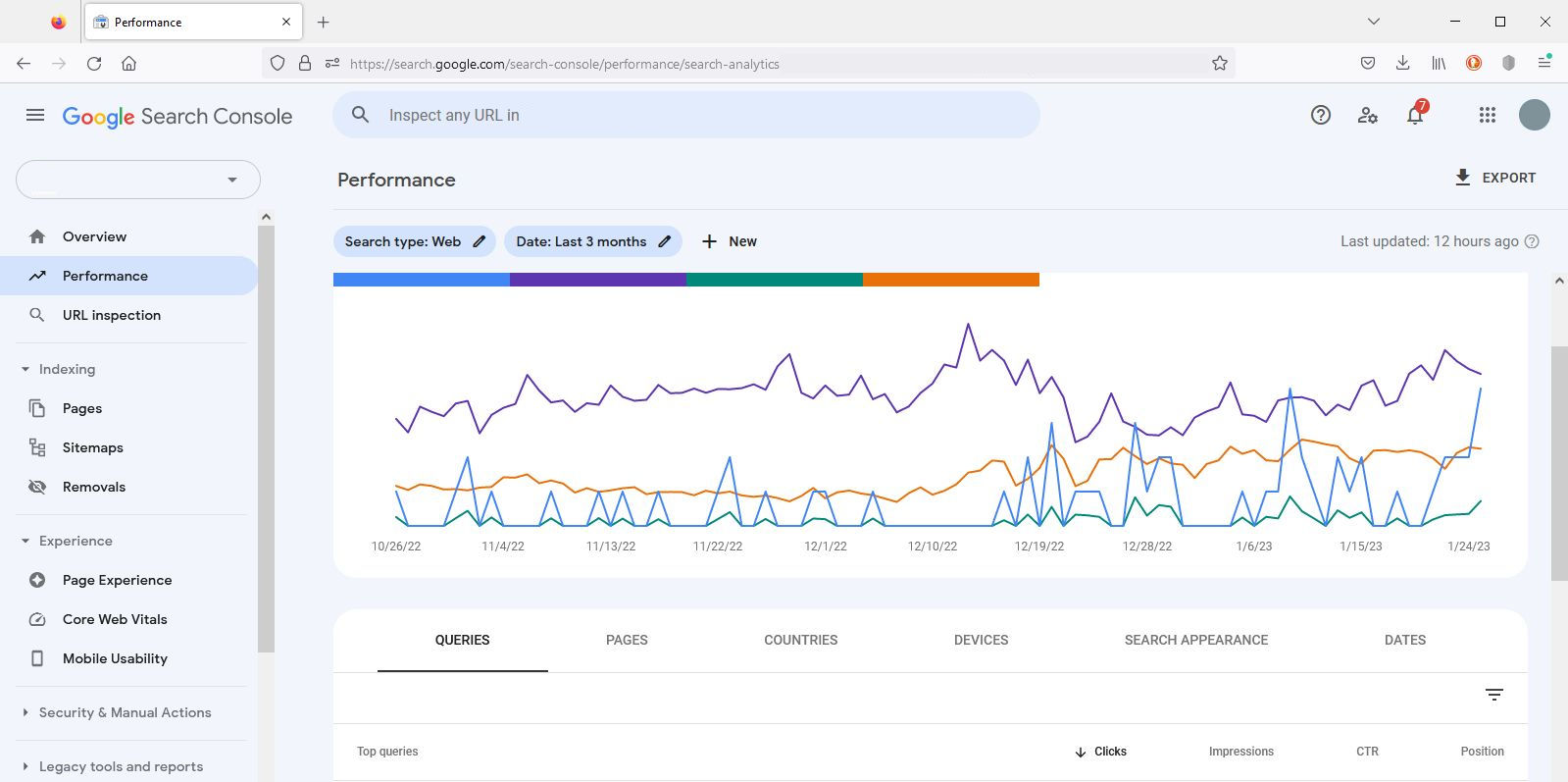 Many small business owners understand that ranking at the top of page one of search engine results can be the key to success. However, it's important to remember that many factors go into search engine rankings. It's not always possible for a small business to rank at the top of page one for each keyword phrase you go after.
Instead of focusing only on rankings, focus on creating valuable, high-quality content that will attract and engage your target audience.
Focusing on high-quality content and good SEO practices is the best way to drive more sales and help your SEO efforts.
Small business owners often neglect to add new content to their website. Search engines favor websites that are regularly updated with fresh content.
It is important to note that SEO is not a one-time task. SEO requires continuous effort to keep up with the latest changes and search engine updates. It is also important to avoid black hat techniques, such as buying links, or keyword stuffing, as these can get your website penalized by search engines.
Remember, it takes time to build up traffic to your site. There are no quick, easy SEO technics that magically increase your SEO overnight. It takes time and effort to get traffic to your website.
8. Writing for Search Engines Instead of People
Another common mistake small business owners make is writing for search engines instead of for their target audience.
While it's important to use keywords and phrases your target audience is searching for, it's just as important to write valuable, informative, and engaging content. Good engaging content will keep the user interested longer. This will reduce your bounce rate and increase your webpage ranking as google will see the page as more valuable.
Google and other search engines today are smart enough to know the subject of your article without repeating your primary keyword phrases.This means you can write for your intended audience naturally without worrying about how the search engines will see it.
With that said, it is still necessary to have your primary keyword phrase added to your meta title, h1 tags, and the body of your text once or twice.
Small business owners often use the wrong keywords or do not use them effectively, which can lead to poor search engine rankings.
Understand that search engines are trying to find the best high-quality content for each search. This means you should spend more time on good high-quality content to help captivate your readers.
9. On-Site and Off-Site SEO is Essential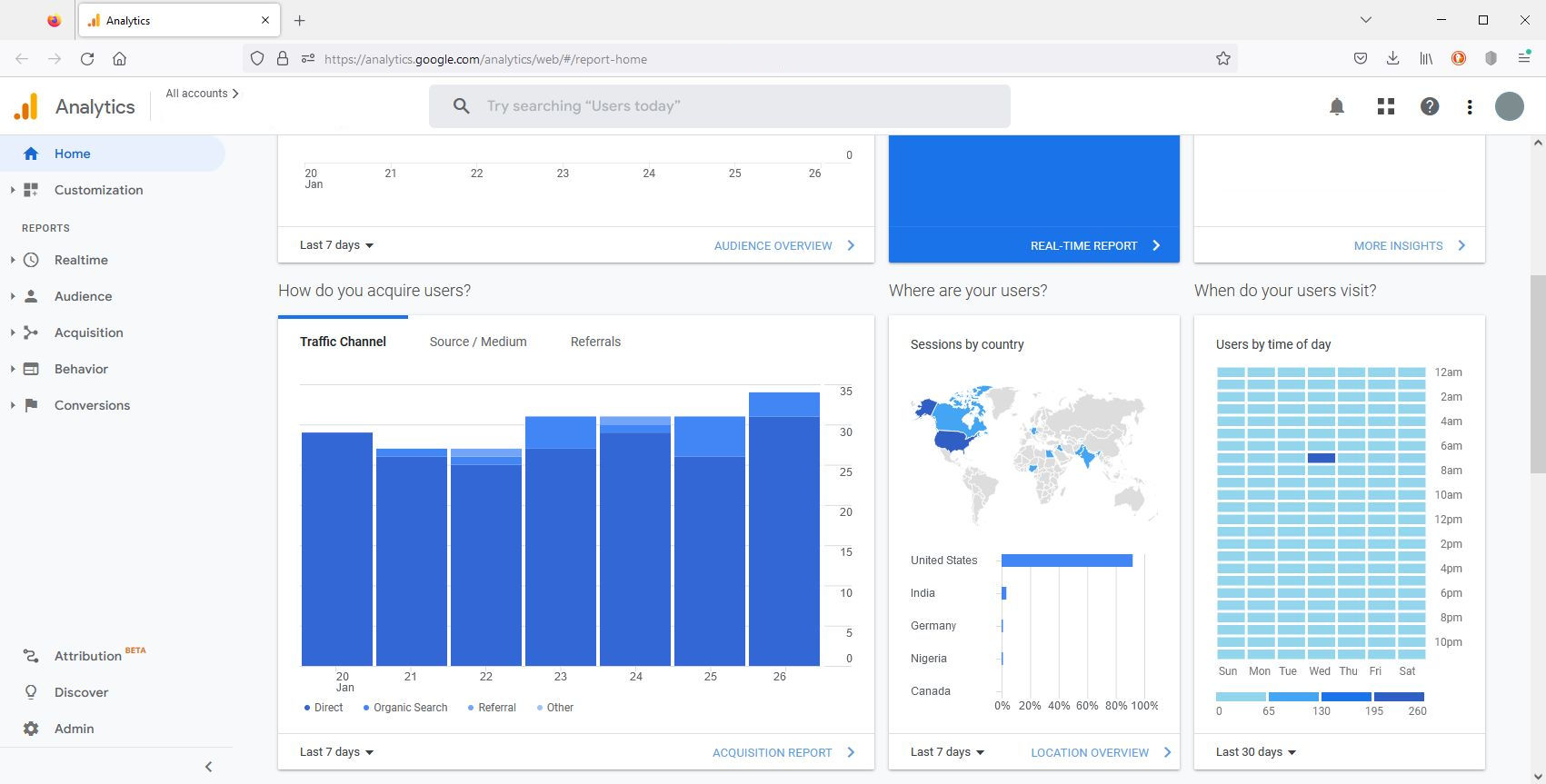 Another mistake small business owners make is focusing too much on on-site SEO, such as optimizing title tags, meta descriptions, and keywords, while overlooking off-site SEO.
Off-site SEO includes link building, social media marketing, and online reputation management. It's important to remember that on-site and off-site SEO is essential for overall search engine visibility and should be given equal attention.
As Brian Dean talks about from backlinko.com, building backlinks is one of the most important things you can do to drive your site to rank on the first page and possibly the first position.
Building good backlinks allows you to adapt to the changes in search engine algorithms. And building backlinks from other relevant websites can help increase your business website's authority and improve your search engine rankings even more.
Adding social media signals such as shares, likes, and links will also be used to measure the popularity and authority of your business website.
It is important to work on both your on-site and off-site SEO when optimizing your website for search engines. This helps to ensure your website is seen by as many potential customers as possible and will help your website adapt to any changes in the search engine algorithms.
Conclusion:
SEO is a powerful tool for small businesses looking to increase their online visibility and drive more traffic to their website.
However, it's important to avoid common mistakes when doing website optimization. These mistakes include not having a good SEO plan to start with or thinking SEO is free or cheap. Or trying to take shortcuts with unethical SEO practices like building unnatural links.
By avoiding these mistakes and taking a strategic approach, small businesses can achieve real results with SEO and drive more customers to their websites. Remember, SEO is an ongoing process and requires consistent effort and monitoring to ensure that your small business is on the right track.
Image Credits
All photos used have been curated by Verity staff
The editorial staff at VerityHosting is a team of hosting experts with over 25 years of experience managing, monitoring, and maintaining hosting services for small businesses.
New To Verity Hosting?
Signup for your free small business newsletter today
Get Started