What is Business Hosting?
Posted on February 3, 2023 | By Verity Hosting Business Post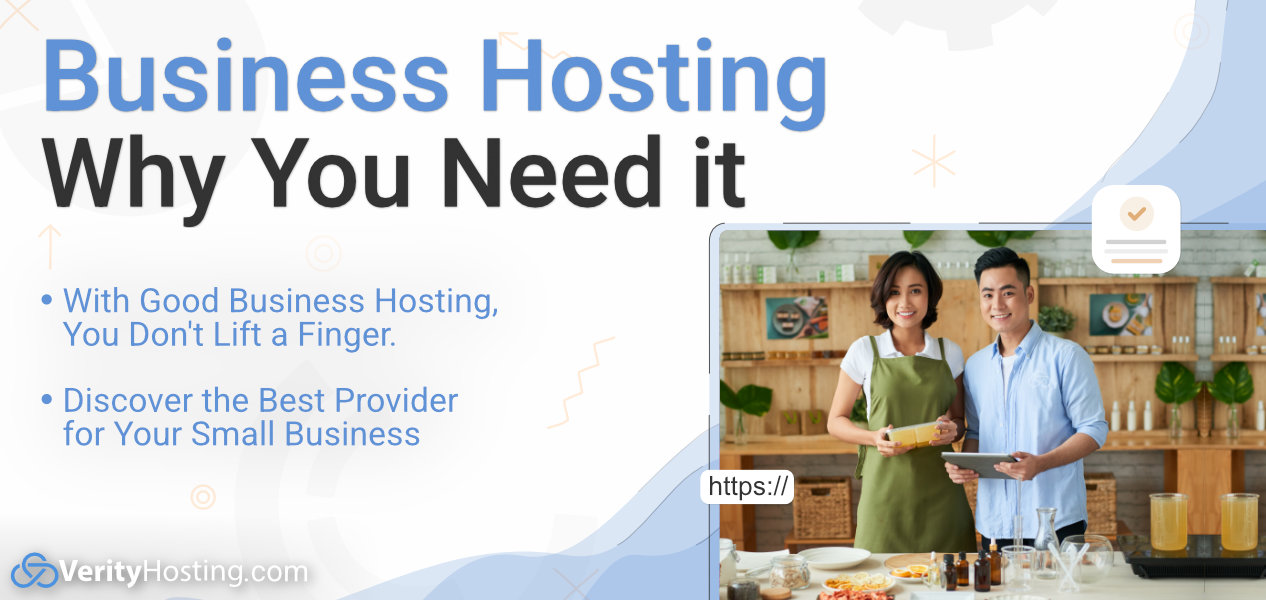 What is Business Hosting
Business Hosting is Web Hosting designed for small businesses. When purchased from the right hosting provider, this type of Hosting will include more personal service, support, and management than standard web hosting.
Most of the good Business Hosting providers will offer a fully managed hosting experience. Since the Hosting Provider already has the expertise in setting up and managing the hosting services, it's ideal to have the hosting provider takes care of all aspects of your website and hosting.
Larger businesses don't necessarily need this type of web hosting as they already have dedicated IT staff to manage their hosting services.
Small businesses, on the other hand, will benefit from the extra service and support from this type of hosting provider.
In contrast, your typical Shared Hosting services are limited in management and support and are not designed for more demanding small businesses.
That is to say that your standard Shared Hosting provider places the burden back on the small business owner to set up, monitor, and maintain their hosting and website.
Are all business host accounts created equal?
No, there are many levels of Hosting, and some of the best Business Hosting companies can be harder to find due to the large Hosting companies dominating online ads.
Many of the smaller Business hosting companies that provide this higher level of quality personal customer service and support have been pushed to the back pages. So it is much harder to find these smaller Business Hosting providers when searching online.
To find good Business Hosting companies that offer more customer service and support, you should use the following keyword phrases.
Business Hosting
Business Web Hosting
Fully Managed Web Hosting
Managed Web Hosting for your Business
Why your Small Business Should Be Using Business Hosting
Small business owners require a higher level of customer service and support and much higher than a standard web hosting company can provide. This is because small businesses rely heavily on their website and email to help support their customers. So even a minor service interruption can affect their reputation and, ultimately, their bottom line.
This puts more pressure on the small business owner to ensure their online services are properly configured and maintained.
Since small businesses are more susceptible to minor changes in income, it makes sense to put more priority on good solid Business Hosting services where the Hosting provider takes care of just about everything for the small business owner.
How To Find a Good Business Hosting Provider
You will likely have to look around when searching for a good Business Hosting provider, as they can be harder to find. This is due to the larger Hosting Providers taking up most of the ad space.
There are about ten hosting providers that take up a majority of internet advertising. You will see them over and over again everywhere you go. Many of these big providers will offer what they call Business Hosting. However, if you look at the details, you will notice that these plans only offer a little more than their standard hosting services.
Most businesses we talk to today have yet to learn they can get the level of support and personal service that a small Business Hosting company can provide.
Business Hosting Benefits
1. Full Website Support
Full website support is just that, full support covering all aspects of the hosting service, the website setup, monitoring, and maintenance. This means the customer will not have to lift a finger as the Business Hosting provider will take care of everything.
2. Great Customer Service
Smaller Web Hosting companies will offer a higher-end personalized customer service experience. The service provider will learn about your business needs and how to better care for your website.
3. Resolve Issues Automatically
A good Business Hosting Provider will be more proactive at monitoring and maintaining your website. This means if something goes wrong with your website, they will be there to fix the issues.
4. Better monitoring
Most hosting companies today do a better job of monitoring due to the amount of security needed to protect their services. However, with a good business web hosting provider, you will typically have a higher level of monitoring and active response when something goes wrong.
This is partly due to the fact that the smaller business providers have less to manage, so they have more time to spend on your account. This again gives the customer more resources to help manage their website and online services.
5. Payment Protection
Payment protection protects the small business owner from missed or late payments. This is an excellent benefit, as lost payments or expiring credit cards happen often. Having your service turned off for a simple billing issue is not something you want to have happen to your small business.
Most small Business Hosting providers offer payment protection to their clients as the smaller providers also want to avoid these payment issues. Most larger providers will send you an email notification about the late payment issues; however, if this ends up in your junk mail and you don't see it, you are out of luck.
6. Website Optimization
With the small Provider, they normally try to ensure your website is as fast as possible, and we'll optimize. This gives you a faster, more responsive website that helps to keep customers from clicking away because of an unresponsive website.
7. Debugging and Troubleshooting
Smaller providers are more hands-on when it comes to debugging and troubleshooting website issues. You will find that most small providers will include free troubleshooting services with your Hosting account.
8. Working With Your Developer and Marketing Team
Small web hosting providers work daily with outside developers and marketing people. Just send your provider an email introducing your developer, and your provider should take care of the rest.
Conclusion
Business hosting refers to a more managed web hosting service specifically designed for businesses to host their websites and other online assets. These services offer more resources, security features, and best-in-class support compared to personal or standard web hosting plans.
Business Hosting is a great product to have for your small business. It may cost a little more, but it is well worth the money when you consider all the extra service and support you'll receive.
The amount of service and support a good Business Hosting company provides to a small business is an excellent reason to invest a little more time trying to find one on the internet.
If you have any questions about our Business Hosting services, give us a call. We would be happy to help you and your small business.
Image Credits
All photos used have been curated by Verity staff
The editorial staff at VerityHosting is a team of hosting experts with over 25 years of experience managing, monitoring, and maintaining hosting services for small businesses.