Why Reviews are Important for Small Business
Posted on Febuary, 17 2023 | By Verity Hosting Business Post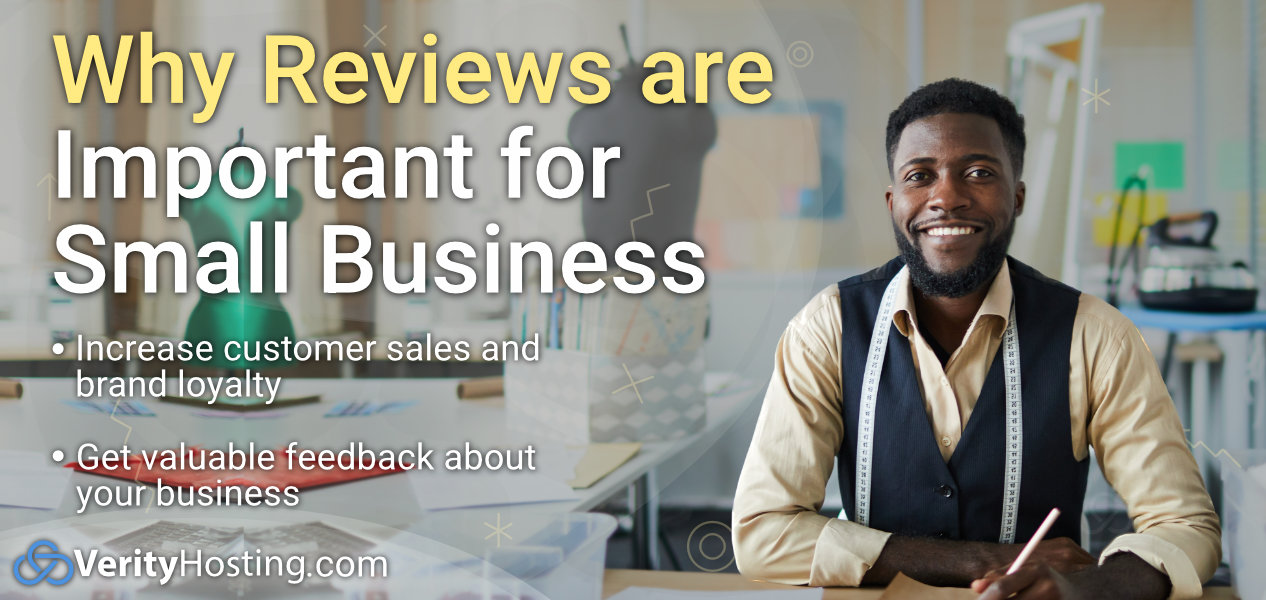 Why Reviews are Important for Small Business
Building your online reputation with positive customer reviews is one of the best things you can do for your small business.
Our research shows that over 90% of consumers use reviews before they make a purchase.
In this article, we look at the eight benefits that reviews bring to your small business.
Let's get started
1. Reviews DO Change Customers' Purchasing Decisions
Everyone wants more value for their money, and online reviews help ensure the value of the product or service they buy.
Reviews do have a significant influence on customers' purchasing decisions. That is, customers are more likely to buy a product from businesses with customer reviews than businesses without.
Most customers spend more time reading and reviewing products than buying the product. Over 90% of shoppers prefer to read reviews before purchasing a product or service.
Potential customers want to know if your product or service lives up to your claims. Positive customer reviews help to do just that.
Your business can have a great product description and show off your product in the best light. The problem is that most customers want to hear about your products from other customers.
That is, other customers like to have social proof that your products are good and worth buying. So good reviews help influence their decision on whether they should conduct business with your small business.
The company that displays good customer product reviews wins over the company that does not. It's just that simple.
2. Reviews Help To Build Trust With Your Customers
Consumers are skeptical. They know that businesses are there to make a profit. They also know that some of the products and services they buy are not as good as they claim to be.
Customer reviews are like a vote of confidence for your business. It is also a vote of confidence for all the products and services you sell.
Since customers are skeptical about purchasing a product based on the manufacturer's description, showing customer reviews on as many products as possible is a good idea.
Customers believe only reviews will give the true product experience. They presume only customers' feedback provides accurate information about your product or service.
3. Reviews Help Build Your Brand
It would be best if you relied on more than your product descriptions and displays to sell your products. Yes, your brand can be exceptional, but only a few people around you will know that.
Customers looking to try something new need to know what to expect from your small business. With bigger household name brands, they know exactly what they get. But that cannot be said about your products and services.
At this point, customers may hesitate to give out their hard-earned money. This is where good reviews play a key role in their purchasing decision.
The narrative will be different if you have a place for customers to leave a review. Reviews help your potential customers know more about the quality of your brand.
When they read reviews from other customers, they know that your brand has much more to offer. They will not be as skeptical about making a purchase.
4. Reviews Make it Easier to Find Your Business
Beyond giving your business credibility and helping you build your small business brand. Reviews help enhance your business's online presence.
In simple terms, every review carrying your business name or product is a form of advertainment for your business.
It is a more straightforward approach than using traditional marketing channels. Reviews help your business reach a wider audience organically. And the best part is, it is free.
Positive reviews have a way of influencing search engines. The more mention your business gets from different review platforms, the higher your small business ranks on search.
Google has even stated that properly managing and responding to customer reviews is a great way to help your Search Engine Optimization SEO.
With good reviews, you can spend less on ads, as good positive customer reviews will help drive more traffic to your website.
5. Reviews Give Your Business More Credibility
Your business credibility is tied to the number of reviews you have. Customers always prefer to go for brands with a very high number of reviews.
A higher number of reviews will help to confirm your business's credibility over your competitors.
It is a game of numbers; the higher the number of reviews, the more credible your business appears to potential customers.
If you have a shop, you can hang a sign encouraging or asking your customers to drop their reviews on whatever platform you use.
You can also use your social media platforms to ask customers for reviews. Their reviews play an important role in giving your business creditability before potential customers.
For local businesses having a Google My Business site setup is one of the best ways to collect customer reviews. The GMB profile is free from Google and should be the first thing you do when setting up a new business.
6. Responding to Reviews Shows That You Care About Your Customers
Customers want to know that their opinions count. And an excellent way to integrate customers into your business and show them you care is by giving them a place to submit online customer reviews.
When you request their review, it gives them a sense of satisfaction. It tells them that you care about them and what they think.
After doing their review, they want a response. Some businesses provide a platform for review, but it needs to be a functional two-way conversation.
Online reviews provide a platform for conversation between you and your customers. They know that when they voice their opinion, you respond, and it tells them you have their best interest at heart.
7. Provides Essential Feedback From Your Customers
As mentioned earlier, online reviews are one of the best ways your business can engage with current and new potential customers.
All customer reviews should matter to you as a business owner. It takes time for customers to leave a review. You should always reward this effort with a positive response regardless of whether it's a good or bad review.
With customer feedback, you get valuable insight that can be used to get the best from your business. You can leverage customer reviews to improve your product and service.
8. Shows How Your Business is Doing Compared to Your Competitors
Customer reviews can tell you how your business is fairing compared to your competition.
Every product or service will get a good and not-so-good review. A positive review shows that you are doing something right.
On the flip side, there are also negative reviews. As much as they are not so good, they are not bad either. They are pointers to improvement.
You can turn poor reviews into positive ones. When you get a bad review from a client, it is important that you reply with grace as much as possible.
Only some people will praise your business or effort. Many will criticize your company and products. Set your emotions aside and reply politely, regardless of how hurt you feel.
First, thank the customer for their sincere feedback. Then, you show them that you are committed to improving your products and services.
That way, you give potential customers or other regular customers an assurance that you will do better.
As customers drop a review, they make comparisons with businesses offering similar products or services. With that, you get to know where the room for improvement lies. Every review provides the chance to improve your business.
Conclusion:
It is no surprise that reviews are essential for businesses in today's digital world. Take reviews seriously, don't ignore them. With reviews, you can build your brand, win customers' trust, and encourage them to tell others about your business.
Online reviews can benefit your business and your customers. Learning to handle bad reviews well, with grace and sincerity, will help your small business grow stronger.
Image Credits
All photos used have been curated by Verity staff
The editorial staff at VerityHosting is a team of hosting experts with over 25 years of experience managing, monitoring, and maintaining hosting services for small businesses.