Why Your Small Business Needs a Blog
Posted on March 03, 2023 | By Verity Hosting Business Post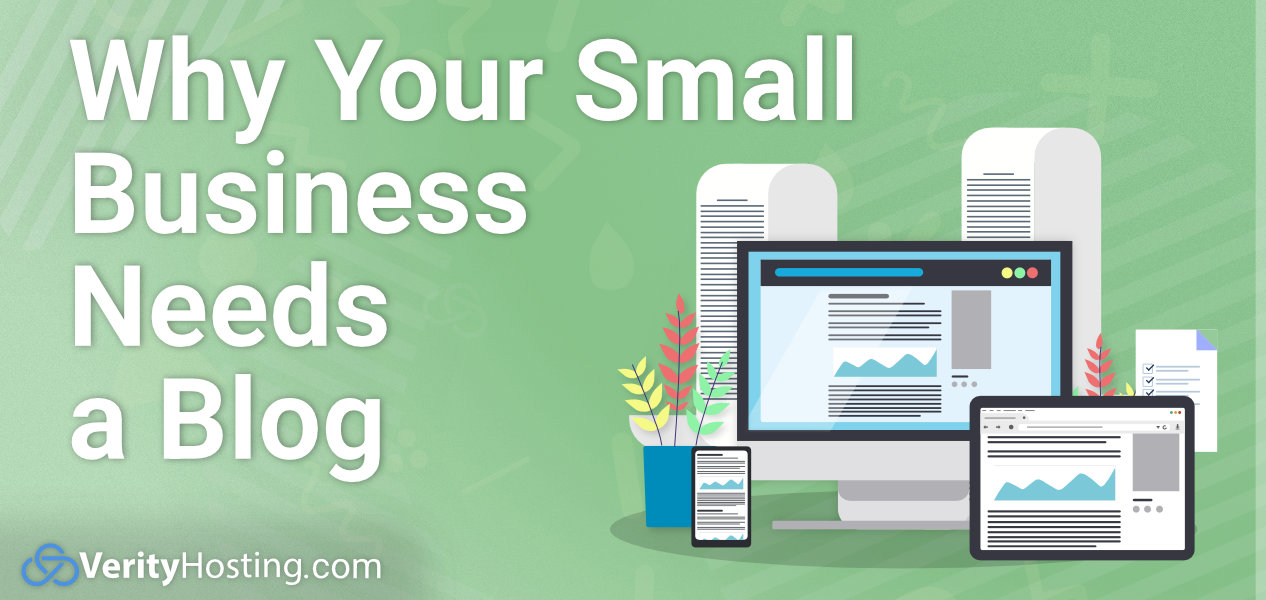 Why Your Small Business Needs a Blog
In today's competitive market, having a blog can help your small business stand out by providing valuable content to your target audience.
It can also help improve your website's search engine ranking and increase your online visibility and reach.
This helps to establish your business's expertise and builds client trust.
In this article, we'll explore how and why your small business needs a blog and how it can benefit your brand.
Benefits Include:
1. Increased Brand Awareness
2. Building trust with your target audience
3. Establishing your expertise in your field
4. Increased website traffic
5. SEO Optimization
We'll cover what a small business blog is and provide tips on how to start and maintain one.
We'll also talk about the benefits of blogging, such as how it can improve the SEO of your website, make you more visible online, and help you build trust with your target audience.
What is a small business blog?
A small business blog is a website or section of a website where an individual or company can post regular updates in the form of articles, videos, infographics, or other types of content.
Most blog posts cover a specific topic or industry and inform readers about that topic or industry.
Blogs are an excellent way for small businesses to build their brand, share what they know, and interact with customers and followers.
Creating a blog for your small business can seem complicated at first. But, with the right approach and tools, it can become a straightforward process.
To start a blog, you must define your target audience, choose a platform, and create a content strategy.
Once you have a plan in place, you can start creating content that provides value to your readers.
Benefits of Having a Blog for Your Small Business
It is important to establish your brand and build credibility to stand out from your competitors.
Creating content that educates, informs, and entertains your target audience will build trust with potential customers and generate more leads.
Let's look at some of the benefits of having a small business blog.
Benefits of Having a Blog:
Establishing your expertise and credibility

Building your brand

Driving a lot more traffic to your website

Cost-effective long-term marketing

Add to your social media and email marketing

Increased sales by promoting your business on your blogs

Increase product page SEO by linking target keywords back to your primary product pages

Increases long-term growth - blogs will receive a higher ranking over time and drive more traffic.

Blog articles will increase backlinks and help drive your SEO

Blogging helps search engines establish what your business is all about.
Establishing Your Expertise and Credibility
A small company blog enables you to show your skills and trustworthiness. You can establish yourself as an authority and thought leader by providing valuable and engaging material.
This will help increase your revenue and customer trust.
Writing well-researched, factual, and relevant blog content will prove your expertise and credibility.
Your blog should offer customers advice, insights, and solutions to common issues.
Blog articles take time to establish and rank well on search engines. So have patience?
High-quality content will help create a devoted audience and establish your brand as the go-to source for knowledge in your sector.
Build Your Small Business Brand
Another key benefit of having a blog for your small business is the ability to build your brand.
Your blog is a part of your website, and it can help reinforce your brand's image and message.
By making content that fits with the values and mission of your brand, you will give it a unique voice and tone that speaks to your target audience.
Your blog will do more than reinforce your brand's identity. It will also help establish your business online and set you apart from competitors.
Drive More Traffic to Your Website
One of the best reasons for your small business to have a blog is that it can bring more customers to your website. More customers mean more sales, and more sales mean faster online business growth.
New and relevant content will help search engines rank your website higher in the SERPs, making it easier to locate.
(SERPS) or Search engine results pages are the pages of search results displayed when you search on Google, Yahoo, or other search engines.
Each blog post allows you to add keywords related to your business and sector, boosting your website's keyword ranking. Your website will rank higher in search results for those keywords.
Helpful and useful blog content is shared more often. This helps increase traffic from social media, email, and other websites.
Cost-Effective Long-Term Marketing
Compared to other forms of marketing, such as paid advertising, having a blog is a relatively low-cost way to promote your small business.
Once you've written and published a blog post, it stays on your website forever. It will continue to bring in visitors and generate leads long after it was first posted.
This will help your business become known as an expert in your field and bring a steady flow of people to your website over time.
Add Articles to Social Media and Email Marketing
Your small business blog can enhance your social media and email marketing. Each new blog post gives you something new to share on social media, which will increase interaction and website traffic.
Email newsletters based on blog material are a great way to nurture leads and keep your audience engaged.
Increased Sales Through Better Business Promotion
Blogs are also an excellent way to promote your products and services and get people to recommend your brand.
By including calls-to-action (CTAs) in your blog posts, such as links to product pages or free trial offers, you will encourage readers to take action and make a purchase.
By giving your customers useful content that solves their problems or answers their questions, you will build trust and a relationship with them.
This can make them more likely to choose your business when they are ready to make a purchase.
Increased SEO by Linking Keywords
As mentioned earlier, having a blog for your small business will help improve your website's ranking in search engine results.
One way to do this is by linking relevant keywords back to your primary product or service pages.
Using anchor text to link back to these pages can help search engines understand the context of your website and improve your ranking for those keywords.
Anchor text is the text link you click on that will bring you to another web page, website, or place on the same page. An example is this link that takes you to our small business Managed Hosting page.
This will also help potential customers find the products or services they are looking for more easily.
Increases Long-Term Growth
Blogs will improve over time, driving even more traffic. One of the most significant benefits of having a blog for your small business is that it will lead to long-term growth.
As you keep adding new blog posts and content to your website, it will become a more helpful resource for your audience.
Ranking higher in search engine results pages and your blog posts will begin to generate more traffic and leads.
This will help establish your business as a thought leader in your industry and help to attract more customers over time.
Attract Backlinks and Drive Your SEO
Backlinks are essential for SEO, and Google uses them as a big part of ranking websites.
A backlink is created when another website links to your website, and it's like a vote of confidence for your site and your content.
The more quality backlinks you have, the higher your website will rank in search engine results pages (SERPs).
Blogs are an excellent way to create new backlinks to your website. When you create valuable, helpful content, people are more likely to link to it from their websites or social media platforms.
As a result, your blog will help drive new traffic to your small business website, increase your online visibility, and improve your search engine rankings.
Establish Your Business Through Search Engines
Search engines use algorithms to determine what your website is about and how it should be ranked in search results.
Regularly writing blog posts about things related to your business can show search engines that you are an expert in your field.
Blogging is a great way to target long-tail keywords that potential customers might be searching for.
Long-tail keywords are longer phrases people use to search for something on the web. An example would be "where to buy a new sheepdog in Indiana."
By using relevant keywords in your blog posts, you can make your website more visible in search engine results for those keywords.
You can also make your business a thought leader in your niche by writing about a wide range of topics related to your industry.
Getting The Most Out of Your Blog
1. Include a Good Call to Action
Your blog post should include a good call to action. This will help you lead your readers to an action where you can gather more information about them.
A call to action (CTA) is a statement or phrase encouraging your readers to take a specific action.
For example, include a CTA at the end of your blog post that invites readers to sign up for your newsletter or check out one of your product pages.
Including a clear, compelling call to action (CTA) on your website will help you turn more visitors into leads and, eventually, customers.
2. Establish your blogging frequency and be consistent
Establishing a regular blogging schedule is crucial for building an audience and maintaining their interest.
When you publish blog posts consistently, your readers will know when to expect new content from you, and they'll be more likely to come back to your website to read your latest posts.
Choose a frequency that works for you and your business, whether twice a week, once a week, or once a month.
The key is to be consistent, so your readers know they can count on you for new, interesting content.
3. Your blog should have your style and brand
Your blog is an extension of your brand, so it's essential to ensure your blog content reflects your brand's personality and style.
Whether your brand is playful, professional, or somewhere in between, your blog posts should match that tone.
Your blog allows you to show off your unique voice and point of view, and it can help you stand out from the crowd.
4. Add images, videos, and other media to your blog to make it more interesting.
Visual content, such as images, videos, and infographics, can make your blog more engaging and shareable.
When you include visual content in your blog posts, you will break up long blocks of text and make your content more scannable.
Additionally, visual content will help illustrate your points, keep the reader on your page longer and make your blog more memorable.
5. Post your blogs to your website, social media, and email marketing.
Posting your blog posts on social media, email marketing, and your website will help to increase even more traffic to your website.
It will also help you establish a community of interested readers and followers on social media to help better promote your business and brand.
Promote your blog entries even more by communicating with your readers and answering their questions and comments.
Conclusion:
Blogs are a great way to increase your website traffic, build your brand and establish your business as an authority in your niche.
Over time, it will help drive more sales and help with long-term growth. You can get the most out of a blog for your small business if you consistently post high-quality content, making it easy for search engines to find.
If you haven't started a blog for your small business, now is a great time to start!
While establishing your blog and growing your readership may take some time, the long-term benefits are well worth your effort.
So, take the time to plan your blog strategy, make high-quality content, and remember to include your blog in your social media and email marketing.
With persistence and dedication, your blog can become a valuable asset for your small business, helping you reach new customers, build your brand, and achieve your business goals.
Image Credits
All photos used have been curated by Verity staff
The editorial staff at VerityHosting is a team of hosting experts with over 25 years of experience managing, monitoring, and maintaining hosting services for small businesses.