How To Make Your Business Website Stand Out
Posted on January 04, 2023 | By Verity Hosting Business Post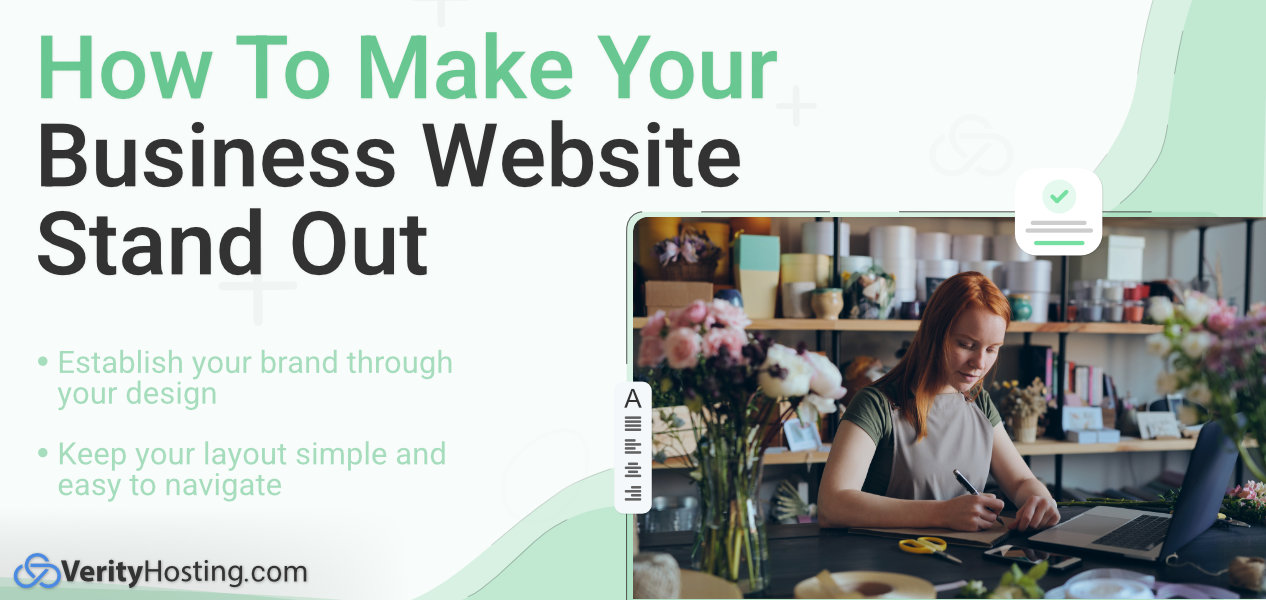 How To Make Your Business Website Stand Out
Your website should be an essential part of your marketing strategy and is a great way to connect and bring in new customers.
But simply having a website isn't enough. If you want your website to be successful, you need to make sure it stands out from the competition.
By following the tips and tricks below, we show you how to make your website stand out and boost your bottom line.
Let's get started!
Establish Your Brand Through Design
It is important to remember to establish your brand through your design.
Since this is the first impression many customers will have of your business, making a good impression is essential.
Create a visually appealing and engaging website
Review your competitors to see what they are doing. You want your website to be unique so knowing what you're competitors are doing is a good idea.
Remember to:
Keep your layout simple and easy to navigate
Create a custom logo and custom graphics
Use custom fonts to add some personality
Hire a good sales copywriter to help boost your sales copy
Adding a new color scheme or just adding some more color to your website can really help.
Remember to try and stick with the colors that work for your industry. For example, a doctor's office should stick with soft blue and other pastel colors and avoid using red or black as a color scheme.
Use Only Quality Images and Graphics
When people visit your site, you want them to stay for as long as possible. The longer they stay, the more likely they will buy.
One of the best ways to keep them engaged is by using high-quality images and graphics.
Remember to use images that are relevant to your business and that capture your customers' attention.
One way to do this is to think about what makes your business unique and find images that reflect that.
Make sure the images you choose are high-resolution and look good on all devices
Finding good images can take some time. If you are unable to find the right images consider hiring a professional photographer or graphics designer.
Stay away from using free images from the internet. These images are frequently tagged for editorial use only. Which means they are not free to use on your website or in your ads.
Some scammers do try and bait companies into using their so-called free images. After the companies use the images, they send a letter from their lawyer demanding money. The excuse is that the images were for editorial use only and not for promotion.
So it is a good idea to only buy images from reputable vendors. Two places that we recommend are 123rf.com and motionarray.com.
Create easily understandable navigation
Ensure your website's navigation is easy to use and understand. Your visitors should be able to find what they're looking for with little effort.
Include clear labels and concise text to help them find what they are looking for.
Too often, business owners try to include too much information in their navigation. This can make it difficult to find things and end up confusing your visitors.
Keep your navigation as simple as you can.
Incorporate Engaging Content
Your website should be more than a digital business card. It needs to be a place where your customers can learn more about you and your products.
So how can you do that?
By incorporating engaging content into your website.
Include the following content images, videos, blog posts, and infographics.
Not only will this help to keep your website visitors engaged, but it will also help you to rank higher in search engines.
So think about what type of content would be most interesting and relevant to your customers, and start incorporating it into your website.
Make Your Site Mobile-Friendly
More people are using their phones and tablets to search the web than ever before. If your website isn't optimized for mobile devices, you're missing out on a lot of customers.
More than half of all web traffic takes place on mobile devices.
A mobile-friendly website will help you reach a broader audience and drive more traffic and conversions.
Another good reason to have a mobile-friendly website is that Google will penalize websites that are not mobile-friendly.
If your website is not mobile-friendly, you should hire someone to convert it to a mobile-friendly format.
Making your business website mobile-friendly gives customers an easy way to connect with you no matter where they are-and that's sure to make you stand out from the crowd!
Make it Easy to Use
Focus on creating a user-friendly experience by increasing the speed of your website. If you have a slow website, your customers will leave before they even see what your website is all about.
Make your website navigation simple to understand. Make it easy for your clients to find what they are looking for. Your navigation should be easy to see, with good descriptions for each page link.
All your pages should be appropriately labeled with good titles, descriptions, and keywords that your customers and the search engines can easily read.
Leverage Social Media
It's no secret that social media has become an integral part of many businesses regardless of the industry. If you're not taking advantage of this fantastic social interaction, you're missing out on a lot of potential customers.
Using social media to promote your business is not only a great way to boost visibility and brand recognition, but it also creates a good dialog with your customers.
You can use it to answer questions, offer support and even give customers special offers and discounts.
With social media platforms like Instagram and Facebook that offer powerful advertising tools, you can target the right people for your business. This will allow you to get the most bang for your buck.
By leveraging social media and allowing customers to interact with your brand in a more meaningful way, you'll be able to make your website stand out from the competition in no time.
Optimize for Search Engines
To make your business website stand out, you must pay attention to your search engine optimization (SEO).
SEO is a critical component of achieving success online and making sure your target audience can find your website.
Start by focusing on keywords that your potential customers are likely to use when searching for businesses like yours.
Use those keywords in your web pages' headlines, body copy, titles, and URLs. This will help increase the chances of appearing in search engine results pages (SERPs) for relevant terms.
Additionally, ensure your content is of the highest quality-this means well-written, original content that offers value to your readers.
Search engines favor websites with unique content, so aim to create blog posts that have a lot of relevant details and references to other trusted sources within the industry.
This will also help keep visitors on your webpage longer and improve their overall experience.
Leverage Video Content
Video is an incredibly powerful way to engage with your customers and bring your brand's products and services to life.
It also helps users more easily understand what you're offering without reading a lot of text.
You can use videos to demonstrate how your products work, answer common customer questions and even show behind-the-scenes footage of the people who work at your company.
When creating videos for your website, make sure they are short, informative, and engaging.
It's also essential to ensure that any videos you add look good on mobile devices, as many visitors will view them on their smartphones or tablets.
Keep Your Website Up-To-Date
If you want your website to stand out from the competition, you've got to keep it up-to-date.
Nothing is more annoying than a site that hasn't been updated in years.
Make sure to regularly check all of the links on your site and update any outdated information or broken links.
Keep the design and images relevant by updating them as needed or when they get stale.
Make sure to post fresh content at least once a month, such as new products, services, industry news, or helpful tips.
By keeping your website fresh and relevant, you'll show new potential customers that you are actively engaged with your business and that they can trust that you will provide them with the most current options.
This also sends signals to the search engines that your site is active, which will help improve your search engine rankings.
Aim for Speed and Performance
The internet is a fast-paced environment, and you want your website to reflect that. A slow-loading website will make a bad impression, so focus on ensuring your content is loading quickly and easily.
Run tests to ensure that everything is working properly, and cut out any extra elements that are bogging down your site's performance.
If you're using images or videos, ensure they are optimized for web use. You can also use a content delivery network to help speed up page load time.
This will ensure that customers have a consistently smooth experience when they visit your website, which will help boost engagement and satisfaction.
Focus on User Experience
When it comes to your business website, don't focus on what you want. Focus on what your customers want.
If you can create a website that provides a great user experience, you'll stand out from the competition, and that is what you're looking for.
Well, think about it this way: when a user visits your website, they should be able to find what they're looking for quickly and easily.
The layout should be easy to navigate, and the content should be well-written and relevant. Plus, the website should load quickly and work well on all devices.
If you can create a website that meets all of these requirements, you'll definitely be standing out from the crowd.
Leverage SEO Strategies
If you want your website to be successful, then you need to make sure it's optimized for search engine algorithms.
This means employing a range of SEO strategies to make sure your website shows up on the first page of search engine results.
One fundamental way to optimize your website is through keyword research - find out what keywords are being used for the services you offer, and incorporate those keywords into your page titles and page headers using the H1 tag.
Secondly, link out to other reputable sites - your link will boost their ranking. However, at the same time, you help to establish trust worthiness for your business website.
Finally, develop a unique content strategy that emphasizes quality over quantity - producing valuable and well-written copy for your site can help you stand out from competitors.
SEO isn't just about using the right keywords in your content; it's about helping people find the most relevant information and about what you offer.
By leveraging these various strategies for promoting your website, you'll be able to generate more visibility and interest in what you have to offer.
Promote Your Content
Once you've set up the foundation of your business website, the next step is to get your content out there and listed in all the right places.
To do this, you'll need to familiarize yourself with different types of content promotion.
For example, create a social media campaign to generate more engagement or use paid advertising such as Google Adwords or Facebook Ads.
Make sure that you are optimizing your content for search engine optimization (SEO) to reach a larger audience organically.
In addition, use influencer marketing for a wider reach!
Reaching out to influencers in your niche can help spread the word about your site and allow you to build relationships with a larger audience.
By leveraging these various strategies for promoting your website, you'll be able to generate more visibility and interest in what you have to offer.
Conclusion
If your website is looking a little stale, or if you're setting up a new website and need some pointers on where to begin, these tips will give you an excellent place to start:
Establish your brand through design
Use quality images
Create clear navigation
Incorporate engaging content
Make it mobile-friendly
Leverage social media
Optimize for search engines
Leverage video content
Keep it up-to-date
Aim for speed and performance
Focus on user experience
Make it responsive and accessible
Leverage SEO strategies
Promote your content
It's important to remember that your website is the face of your business, so you want to make sure that it's representing you in the best possible light. With a little effort and some thought put into the design, you can create a website that will make your business stand out from the crowd.
Image Credits
All photos used have been curated by Verity staff
The editorial staff at VerityHosting is a team of hosting experts with over 25 years of experience managing, monitoring, and maintaining hosting services for small businesses.