Why is Web Hosting Important for a Small Business?
Posted on June 9, 2023 | By Verity Hosting Business Post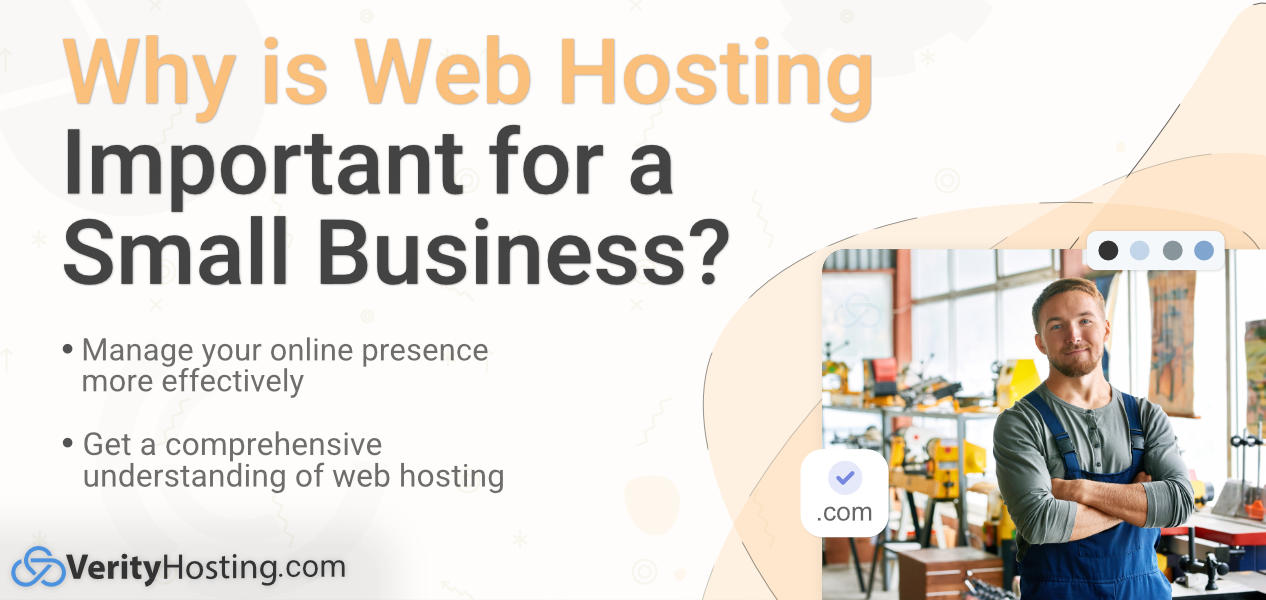 Why is Web Hosting Important for a Small Business?
Good hosting is a vital part of any small business. Without a good hosting provider, the small business will see more downtime, slow-to-respond tech support, and unreliable services.
Having a good hosting provider will produce a better end-user experience and ensures that the small business's website is secure and reliable.
In this article, we will explore why good web hosting is vital for small businesses and offer tips to help businesses select the best hosting for their needs.
Small Business Hosting Advantages?
Today a website is an essential component of any successful small business. Having a good website helps to establish business credibility, drive online sales, and build the small businesses' brand and reputation.
As a small business owner, you rely on your online reputation to bring in sales and help establish your brand, and web hosting is one of the critical components you need to make this all work.
Frequent downtime due to technical or security issues will harm a business's reputation. A quality web hosting provider can help ensure the website remains accessible to customers 24 hours a day.
If you own a small business, it's a good idea to look for a hosting company that caters to small businesses. Look for business web hosting that offers better customer support and includes more hands-on maintenance with their services.
Here are a few things to look for:
Better customer support

Regular Website Security Updates

Free Website Transfers

More robust backup options
If you are not very tech-savvy, or even if you are, you should take advantage of managed or fully managed web hosting.
Let's review some of the benefits of managed web hosting and how it can help your small business.
Managed Web Hosting
Small businesses today are taking advantage of managed web hosting. Managed web hosting offers a much higher level of customer service and support, along with better stability.
It also provides the ability to push the responsibility of hosting maintenance and management back to the hosting provider.
This allows the small business owner to maintain a professional and effective online presence without requiring significant technical expertise.
Managed hosting providers will typically offer the following:
1. Regular website security updates

2. Better long-term backups

3. More resources per account

4. Much better customer service and support
Having the hosting provider take care of your website security, backup, and maintenance is a real-time saver. It allows the small business owner to have a full support team, something that is usually only available to larger companies.
The Benefits of a Good Hosting Provider
One of the primary benefits of using a good web hosting provider is it ensures your website remains accessible to customers, even during peak traffic times or when you run into problems and need help beyond basic support.
Selecting a good reputable hosting provider will help avoid downtime and other technical issues that could harm a business's reputation and affect revenue.
A good Web hosting provider can also help small businesses save on costs by avoiding the need to hire outside support to help maintain their website.
Moreover, a good web hosting provider offers scalability for businesses, allowing them to adjust their website resources as demand grows.
With a good Managed Hosting Provider, you can even get assistance with server configurations, software updates, and website troubleshooting, among other things. This can be especially helpful for companies that don't have technical expertise or support staff.
In addition, a good web hosting provider will offer more support and help businesses manage their online presence more effectively. This will help businesses create a professional and effective website without requiring extensive technical knowledge.
Tips for Choosing a Hosting Provider
Choosing the right hosting provider is crucial for the success of your business's online marketing efforts.
A good business hosting provider or managed hosting provider will help ensure that your website remains accessible, secure, and reliable while providing the scalability, technical support, and online tools necessary to help your business grow.
With so many hosting providers available, it can be challenging to know where to start. To help you choose the best hosting provider for your business, here are five tips to keep in mind:
1. Determine your business's website needs:
Before selecting a hosting provider, think about your business and what you will need in the next few years to support your business growth.
Go with a provider that can help you get things in place as you grow your business. You don't want to be switching from provider to provider, as this just adds more complexity.
Look for quality of service and a provider that offers good customer support. If you are not very tech savvy, then it's a good idea to look for a managed hosting provider.
In today's internet, there are fully managed hosting services available that will take care of just about everything for you. For the small business owner, this is a great option as it moves the responsibility of maintaining the website back to the hosting provider.
Research the hosting provider's reputation:
Look for reviews and testimonials from other businesses that have used the hosting provider you're considering.
This will give you an idea of their reputation and whether they provide reliable, secure, and quality service. Check for uptime guarantees and support response times as well.
Consider the hosting provider's pricing and packages:
Going with the cheapest service out there is never a good idea for any small business. Look for a service that fits your business now and in the foreseeable future. Paying a little more for better service will pay for itself in the long run.
Evaluate the hosting provider's technical support:
Technical support is critical when it comes to web hosting. Look for providers that offer quick response times and knowledgeable support staff.
For even better support, look for a fully managed hosting provider. A fully managed hosting provider will take care of everything for you. This is a great option for most non-tech-savvy small business owners.
Check for additional features and tools:
Look for a hosting provider that offers additional business features and tools to help you manage your website more effectively.
By keeping these tips in mind, you can choose the best hosting provider for your business's website, ensuring that it remains reliable, secure, and scalable while providing the technical support and online services necessary to grow your business.
Other Benefits of a Good Hosting Provider
Web hosting providers offer more than just a reliable and secure platform for a business's website. They can also contribute additional benefits that can help businesses improve their online presence and grow their customer base.
From data backup and recovery to consulting and website customization, here are some other benefits a web hosting provider can contribute to a small business.
Data Backup and Recovery:
A reliable hosting provider can offer regular website and email data backup and recovery services to protect your business's data in case of data loss, accidental deletion, or hardware failure.
Improved Website Performance:
A good hosting provider can help optimize website performance by offering caching and content delivery network (CDN) services that provide faster load times, improved uptime, and a better overall user experience.
Enhanced Security:
A hosting provider can help enhance website security by offering SSL certificates, firewalls, and other security features to prevent hacking and malware attacks, protecting your website and your customer's data.
Email Hosting:
A good business or managed hosting provider will offer email hosting services to help businesses create professional email accounts with their domain names, improving their online presence and brand recognition.
Customization:
Some hosting providers may offer customization options that allow businesses to tailor their websites to their specific needs, such as adding custom features, modifying design templates, and integrating third-party apps and plugins.
This can help businesses create a unique online presence that stands out from their competitors.
Analytics and Reporting:
Web hosting providers may offer tools to help businesses track website performance, such as analytics software, heatmaps, and conversion tracking. This can help businesses make data-driven decisions about their website and marketing strategies and improve overall website performance.
By partnering with a reputable web hosting provider, small businesses can take advantage of a wide range of benefits to help them succeed in the digital marketplace. Partnering with a reliable web hosting provider will provide small businesses with many more benefits to help them succeed online.
Conclusion:
A good Web Hosting Provider is crucial for small businesses to establish a successful online presence. Good hosting will provide a secure and scalable website and help build a brand image that customers can trust.
With the help of a good web hosting provider, small businesses can expand their reach to a broader audience and create a professional website that attracts and engages customers.
In today's highly competitive digital market, having a reliable hosting provider is essential for businesses to succeed online.
It helps reduce downtime and other technical issues that can harm a business's reputation and affect revenue. With the right web hosting, businesses can ensure their website remains accessible to customers, even during high-traffic times.
Image Credits
All photos used have been curated by Verity staff
The editorial staff at VerityHosting is a team of hosting experts with over 25 years of experience managing, monitoring, and maintaining hosting services for small businesses.